66 Square Feet by Marie Viljoen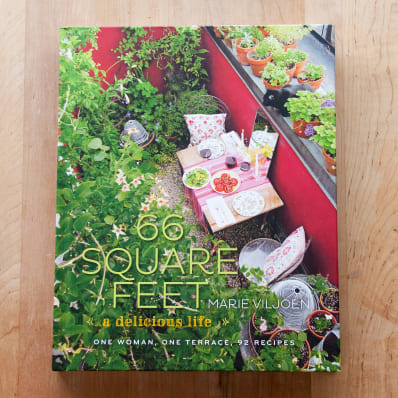 As someone who has lived in tiny apartments my entire adult life, it's always fascinating to me to see what other people do with their own small spaces. Fascinating — and also frequently jealousy-inducing. Marie Viljoen has done more with her 66-square-foot rooftop terrace than I've ever done with a space that size. Strawberries and blueberry bushes in baskets, pots overflowing with green herbs, fronds of fennel waving like green flags — so much nourishment and beauty in a little space.
This cookbook is an invitation to peer over her garden wall and see what she cooks with each passing season.
Quick Facts
• Who wrote it: Marie Viljoen
• Who published it: Stewart, Tabori & Chang
• Number of recipes: 92
• Recipes for right now: Concord Grape Granita, Spicy Lamb Shanks, Quinces Roast with Juniper, Broccoli Bruschetta, Ginger Ale Ham, Toasted Cumin Cauliflower Soup, Fluffy Sweet Potatoes with Citrus, Mushroom Pizza
• Other highlights: This is my favorite kind of cookbook. Stories on every page with recipes tucked in between, gorgeous photos that make me see the streets of New York in a completely different light, and an emphasis on sharing meals with friends. It's the kind of cookbook that I keep by my bedside to read in the drowsy, restful moments before sleep and then carry with me into the kitchen the next day. It also satisfies my inner voyeur and her insatiable curiosity about how other people cook, eat, and live. This book is the full package!
This book is mainly about discovering what is ripe and beautiful at the moment when you're hungry and then thinking about how to make that into a meal. In addition to the abundance of fruits, vegetables, and herbs that Marie Vilgoen grows on her terrace, she takes full advantage of her local farmers market and urban wild spaces. I love her stories of discovering mulberries on a walk through New York and foraging for milkweed in neglected patches of green.
The book is split into 12 chapters, each devoted to a month of the year, and flipping through the book is like watching the calendar go by in fast-motion. With each month, Viljoen talks about what's going on in New York and her life, what she's finding at the markets and in her garden, and how she's planning to cook it. She offers a handful of simple, everyday recipes and then a full menu for sharing with friends. It's the emphasis on entertaining and gathering that wins this book over for me — particularly her inventive cocktails!
My thumb has been proven to be more black than green, but maybe — just maybe — with this cookbook as inspiration this winter, I will be inspired to scratch out a corner of green space this coming year. But regardless of whether we grow our own or fill our pantries with produce from the farmers market, 66 Square Feet is a reminder that eating with the seasons never disappoints.
• Who would enjoy this book? New Yorkers, foragers, cooks who like to be inspired by their ingredients first and follow a recipe second.
Find the book at your local library, independent bookstore, or Amazon: 66 Square Feet by Marie Viljoen
Apartment Therapy Media makes every effort to test and review products fairly and transparently. The views expressed in this review are the personal views of the reviewer and this particular product review was not sponsored or paid for in any way by the manufacturer or an agent working on their behalf. However, the manufacturer did give us the product for testing and review purposes.
(Images: Emma Christensen)
Kitchn supports our readers with carefully chosen product recommendations to improve life at home. You support us through our independently chosen links, many of which earn us a commission.