6 Ideas for a More Joyful 2017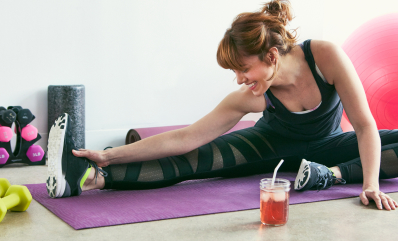 (Image credit: Ryan Dausch)
We love the spirit of the refresh that's inherent to January. We love it so much, in fact, that we can get carried away with making resolutions that are too ambitious to stick; ergo, cheese is still very much a part of our new year. What we all need are resolutions we can actually accomplish — and that we actually enjoy accomplishing.
To this end, we've assembled six can-do resolutions that will make anyone's year that much better. These aren't about straining to be someone we're not; they're just little ways to line up our lives with our best selves. Each is inspired by Tazo® tea blends, which complement what makes life better, from connecting with friends to nurturing our creativity. With that, let's jump in to a joyful 2017!
(Image credit: Ryan Dausch)
Resolve to be creative. Remember how much fun art projects were when you were a kid? Well they're really fun for grown-ups, too, with the added bonus of there being no one to get mad at you for making a mess. Steep a cup of Tazo's Awake™ English Breakfast, an invigorating, brightly flavored black tea, to help you power through your project. We've started hand-making heat-embossed birthday cards for our friends, a fun and just-messy-enough way to release our inner artiste.
Resolve to pick up a new skill. Taking a class in something new sharpens our minds, keeps us fresh, and expands our comfort zones. Try calligraphy or coding, filmmaking or French. It may be a skill you want or need, or maybe the class is an end in itself. The point is to keep your mind ticking.
(Image credit: Ryan Dausch)
Resolve to read more. We all know that reading is relaxing, is transporting, and makes you smarter. At the end of the workday, though, the instant gratification of TV is so appealing. So carve out the time for a good book or magazine — fiction or non, highbrow or low — by starting a book group or articles club. The lemongrass and spearmint in Zen™ green tea will put you in a frame of mind for a great read. Can't finish the book by meeting day? Well you faked it in high school and you can fake it now.
Resolve to unplug and zone in. We all spend so much time on our screens, our heads far away from the IRL. That's not the way we want it, right? Connect better this year by planning a regular phone-free get-together with friends. The harmonious flavors of Zen™ tea set a convivial mood as you plug into the experience with the people in front of you.
(Image credit: Ryan Dausch)
Resolve to work out more. Maybe fitness means getting serious about spinning; maybe it's only a simple stretch routine in the morning. Whatever it means, resolve to get in some movement every day. Cute workout clothes help, and a glass of iced Tazo Passion® tea, with the flavors of hibiscus, orange peel, rose hips, and passion fruit, make the perfect caffeine-free workout partner.
Resolve to serve your community. Few things will make you feel better than helping others. With so many great organizations needing your time, it's easy to find something you love to do — like helping kids at a mentorship program or joining a neighborhood beautification project. Find your passion and help improve your corner of the world.
(Image credit: Ryan Dausch)
What resolutions have you set for 2017? Let us know in the comments, and explore all of Tazo's tea blends at Tazo.com to find the one to power your adventures.
This post is sponsored by Tazo.
Thank you for supporting the brands that make Kitchn possible.
Kitchn supports our readers with carefully chosen product recommendations to improve life at home. You support us through our independently chosen links, many of which earn us a commission.