6 Ingredient Solution by America's Test Kitchen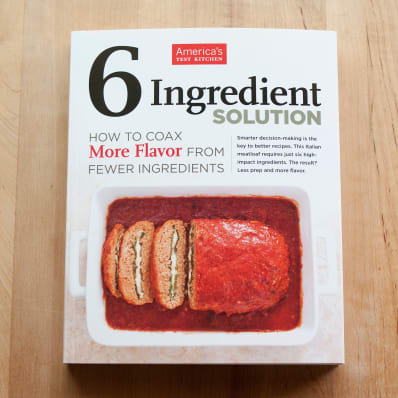 There's something infinitely appealing about a six-ingredient recipe. It promises simplicity, ease, and speed. But six ingredients also feels like enough to actually make something. If this is the theory, then America's Test Kitchen prove it to be true. With 6 Ingredient Solution, the Test Kitchen cooks promise dishes that are not only easy to make, but that are also packed with flavor. As Chris Kimball says in his intro, "[T]he little known secret of the best cooks is simplicity."
Quick Facts
• Who wrote it: America's Test Kitchen
• Who published it: America's Test Kitchen
• Number of recipes: Over 175
• Recipes for right now: Feta-Dill Dip with Cucumber Chips, Sausage and Tortellini Florentine Soup, Lemon-Braised Chicken with Fennel, Kimchi Fried Rice with Beef, Lamb Pitas with Roasted Red Pepper Sauce, Crispy Potato-Crusted Salmon with Herb Salad, Easy Tortellini Gratin, Apple Turnovers
• Other highlights: It's easy to start thinking of a six-ingredient meal as a gimmick akin to the 30-minute meal or to assume that, lacking ingredients, these dishes will lack flavor as well. This is why the subtitle of this book feels just as important to me as the title: How to Coax More Flavor from Fewer Ingredients.
The book addresses this right away in the first chapter with descriptions of the Test Kitchen's favorite tricks for maximizing flavor — tricks like using the flavorful oil from a jar of sun-dried tomatoes to sauté vegetables, cooking over high heat to develop deeper flavors, and putting condiments and pickles to smart use. These are ideas that get at the heart of cooking — any cooking! — and we can apply them whenever we're in the kitchen.
The recipes reinforce these core flavor concepts by focusing on basic kitchen skills and showing us how to get the most out of our ingredients again and again. In trademark America's Test Kitchen fashion, the recipes are also accompanied by sidebars explaining ingredients and photos illustrating tricky steps.
The recipe writers definitely take some help from the grocery store, using things like spice blends, prepared pesto, and jars of sauce to stay within their six-ingredient limit. Some of these surprised me (the quality-obsessed cooks of America's Test Kitchen recommending we use commercial arrabbiata sauce?), but for the most part, I think taking some help from the grocery store now and then is a smart way to streamline our weeknight cooking.
Overall, I've got to say that this looks like a pretty darn tempting bunch of recipes! Some are appropriate for a last-minute weeknight meal while others could certainly be served on fancy china at a dinner party. I really appreciate the diversity of recipes, as well; they draw on the flavors and dishes of China, Italy, Thailand, Greece, South America, India, and many other places around the world. With so much focus on flavor, I honestly sometimes forgot that the recipe I was looking at had only six ingredients!
• Who would enjoy this book? Busy cooks looking for more weeknight meal inspiration, new cooks looking for approachable recipes.
Find the book at your local library, independent bookstore, or Amazon: 6 Ingredient Solution by America's Test Kitchen
Apartment Therapy Media makes every effort to test and review products fairly and transparently. The views expressed in this review are the personal views of the reviewer and this particular product review was not sponsored or paid for in any way by the manufacturer or an agent working on their behalf. However, the manufacturer did give us the product for testing and review purposes.
(Images: Emma Christensen)
Kitchn supports our readers with carefully chosen product recommendations to improve life at home. You support us through our independently chosen links, many of which earn us a commission.