Next Week's Meal Plan: 5 Vegetarian Fall Recipes for the Week Ahead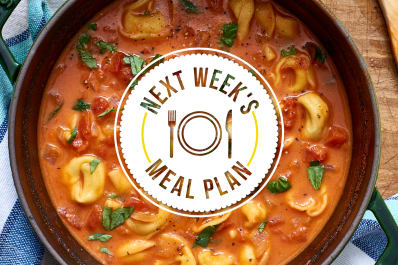 (Image credit: Joe Lingeman/The Kitchn)
There's been a lot of roasted meat in my professional life lately — more turkey, ground beef, and chicken than I care to admit — and while I'm still feeling like cozy fall cooking, I'm ready for a week of vegetables.
Luck would have it that this week the stars have aligned to give me a ton of pantry staples like chickpeas and black beans, leftover vegetables that need to be used up, and a bunch of new-to-me recipes that are all vegetarian. Here's what a week of family-friendly vegetarian dinners looks like in fall.
Welcome to This Week's Meal Plan
Planning my weekly meals is a habit I enjoy. Since I'm frequently asked by friends and family what I'm cooking for dinner each week, I thought it'd be useful to share my weekly meal plan here. Whether you're just learning to meal plan and looking for a real-life example of how this works or you're an old pro on the hunt for inspiration, here's a peek at how I'm feeding my family this week.
I always love to start the week with some sort of pasta dish, as it's a guaranteed winner at my table and most Mondays need just one win. This soups takes just 20 minutes to pull together and is hearty enough to serve as dinner alone, but I'll be making a super-simple green salad for a side.
Since last week's Turkey enchiladas were such a big hit (and a good reminder of how amazing enchiladas truly are), this week I'm taking the easy route and putting them in the slow cooker before I head out to a school event. You can use any leftover vegetables you have on hand to round out this filling, but I'm reaching for a bag of frozen corn that needs to be used up.
This recipe is doing double duty as dinner tonight and then future lunches and dinners in the coming months. I'm freezing leftovers for my future self. This recipe is so delicious, easy, and surprisingly kid-friendly. I'm serving naan and plain yogurt on the side for the kids to stir in or dip as needed.
Maybe this week's theme is actually recipes and ingredients that I totally forget about. Case in point: pre-cooked polenta. We are eating this polenta Florentine as breakfast for dinner with fried eggs on the side.
Surprise! Pizza Friday is actually calzone Friday this week, as we have some leftover ricotta, spinach, and pizza sauce that needs to be used up. I'd like to say that we will freeze the leftovers because these calzones freeze very well, but honestly we'll probably eat every single one of them while watching a movie on the couch.