5 Tips from Around the World for Making a Better Pot Roast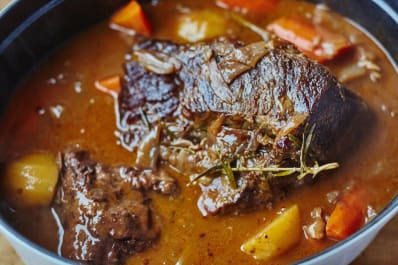 (Image credit: Lauren Volo)
When we hear the words "pot roast," many of us think of the Sunday classic — a hunk of braised beef swimming in gravy and surrounded by tender vegetables — but "pot roast" is also a verb. To pot roast something promises that meat is browned and then braised with a long slow, cook until tender. Many cultures have their own distinct pot roasts with ingredients ranging from lamb to green olives to prunes. While ingredients vary, there are many techniques from these regional pot roasts that we can apply to our own pot roast at home. Here are my four favorite pot roasts from around the world and the tips they teach us about making better pot roast at home.
(Image credit: Lauren Volo)
1. Stracotto (Italian)
Stracotto translates from Italian to mean "overcooked," which is a pleasant way to refer to the tender beef created from this version of pot roast. Much like New England pot roast varies just a bit from Southern pot roast, stracotto has many regional varieties in Italy, but most are built on soffritto — a mixture of celery, onions, and carrots similar to mirepoix — tomatoes, red wine, and cinnamon or cloves.
Try it: Warm spices go a long way in livening up a braised dish of beef. Try adding a single cinnamon stick or a tiny pinch of clove to your next pot roast.
(Image credit: Lauren Volo)
2. Daube (French)
Daube may more closely resemble beef stew than pot roast, as it's often made from a combination of beef cuts including short rib and chuck, but the daubière, a special pot designed to reduce evaporation as the stew cooks, is worth noting here. Slowing evaporation results in more moisture for the beef to cook in and more gravy, which makes for an instantly better pot roast.
Try it: Slow down evaporation and mimic the daubière in your Dutch oven by wetting a piece of parchment paper and laying it directly on the pot roast before covering and braising.
3. Boliche (Cuban)
Boliche, or boliche mechado, is so full of delicious additions to traditional pot roast it's hard to know where to start. First off, the roast here is usually stuffed with more meat (often chorizo and sometimes ham) before being marinated in a mixture of onions, garlic, and sour orange juice. The marinade becomes part of the braising liquid, which can include more sour orange juice, green olives, tomatoes, and soffritto.
Try it: While few of us have sour orange juice on hand, we likely have a few bottles of vinegar, which can improve our pot roast with just a splash. Try adding just a teaspoon of malt or red wine vinegar to your braising liquid for better pot roast.
4. Sauerbraten (German)
Often called German pot roast, sauerbraten is a pot roast which is marinated for several days in a strong vinegar and spice mixture before being braised. The marinade flavors and tenderizes the beef before cooking.
Try it: Try marinating your pot roast in the wine you plan to braise the meat in the night before, but be sure to pat the meat very dry before browning.
Get a recipe: German Slow Cooker Pot Roast (Sauerbraten)
5. Carne Assada (Portuguese)
This pot roast most closely resembles the pot roast that we know best, with one smart addition: chourico. This Portuguese sausage is similar to the dry version of Spanish chorizo and lends loads of spices and meaty flavor to the finished pot roast.
Try it: No need to stick with only one type of meat in your pot roast, especially if the other meat can be used to beef up the pot roast's flavor. You can fry bacon, use the fat to brown your beef roast, and then chop and add it to the braising liquid for a smoky flavor without smoking the meat.