5 Tips for Keeping Your Kitchen Germ-Free During Flu Season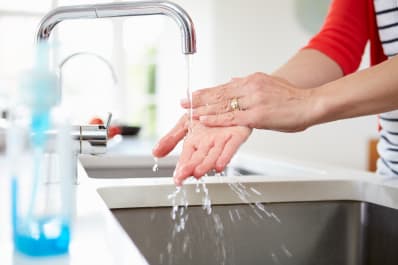 (Image credit: Monkey Business Images/Shutterstock)
No one likes getting sick. Whether you're hit with the common cold or knocked out by the flu, dealing with an illness is a complete pain. Not only do you feel physically sick, but you also find yourself mentally exhausted and incapable of going to work, cleaning the house, or cooking. It seems like, no matter how hard you try to avoid people who are sick, you're bound to come down with something.
But this year, things are going to change. With these tips for keeping your kitchen clean and germ-free, this will be the season without sickness.
1. Wash your hands more than usual.
You probably already wash your hands a ton while you're cooking, but during cold and flu season, you want to double down on your efforts to keep your paws clean.
Tip: Stock your kitchen with a scented soap that makes you happy and you'll be sure to want to use it.
2. Change your dish towels daily.
Because you're going to be washing your hands more often than usual, you're going to want to make sure you have something clean and germ-free to dry them off with. Every morning, toss your old towel in the hamper and grab a new one from the stack. Maybe even consider grabbing two — one for your hands and one for drying dishes.
Related: The Best Kitchen Towels Aren't Actually Kitchen Towels (or Even Towels)
3. Regularly wipe down all kitchen knobs, handles, and switches.
When was the last time you disinfected the refrigerator handle or the face of your microwave? Frequent touch points are hotspots for germs that can lead to cold and flu symptoms, but cleaning them thoroughly and often can help keep sickness at bay. Use disinfecting spray or wipes on your kitchen light switches, stove knobs, fridge handles, and appliance controls as you clean up from dinner.
4. Sanitize your cleaning supplies.
Cleaning and sanitizing your home only works if your tools are clean to begin with. That's why you should regularly spend some time disinfecting your cleaning supplies. Sanitize your dish brush with vinegar and soap, microwave sponges to kill bacteria, and throw your mop head in the laundry to get it squeaky clean.
5. Disinfect your countertops.
Wiping up spills and cleaning up clutter is one thing, but you've also got to disinfect your countertops. Otherwise, think of all that surface area that's just begging to harbor and pass along germs. Imagine this scenario: Someone puts a germ-y fork down before putting it in the dishwasher, and then someone else comes along, washes an apple, and puts it in the same spot while grabbing a drink. Germs spread!
Tips for Cleaning Countertops
Bonus: If You Do Get Sick, We've Got You Covered