The 5 Things I Need in a Seaside Kitchen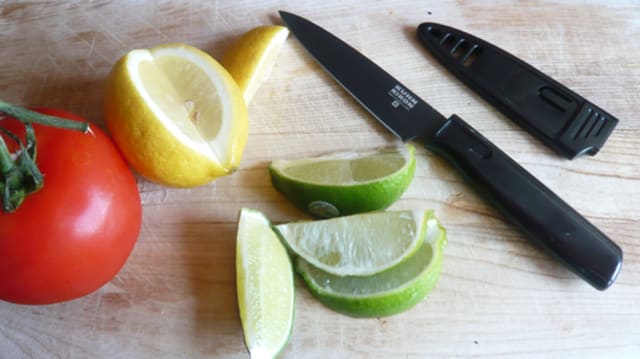 I've spent a lot of time at the beach, in rental houses, and as a guest in other people's vacation homes, so I know what I can't live without. (You should see the list of beauty products I need for a week!) Here are the five things I must have in my beach kitchen:
I need at least one good knife on a beach vacation, and it doesn't have to be a big one. My Kuhn Rikon paring knife, with its travel safe sheath, is perfect. Dull knives lead to injury, and the last thing I need when I'm cutting lemons for my next cocktail is a sliced finger. My little paring knife is perfect for slicing citrus fruit, tomatoes, cheese and almost anything else I might want to eat at the beach.
A large steel pot, a necessity for steaming crab, making an mess of Frogmore Stew or cooking up a huge pot of pasta for a crowd. Here in South Carolina, you almost always run into someone you know at the beach, which makes you want to invite them to dinner, which necessitates an enormous pot of food.
A blender. In my experience, most beach houses come equipped, but I always ask to be sure, because I'll bring my own if I have to. Obviously, frozen drinks and smoothies are always a possibility, but the blender is also good for crushing any number of things to take the place of breadcrumbs for crab cakes or fried fish.
You know what else is nice? A food processor, because I make a lot of cheese grits and I hate grating my own cheese. I bought a cheap one ($29.99) to keep at my dad's beach house and it works just fine.
Plenty of cutting boards. It seems like someone is always taking one out, to cut ripe tomatoes for BLTs, lemons and limes for margaritas, cheese for sandwiches or an onion for whatever's going in the pot for dinner. I like a stack of cutting boards in all sizes and materials.
What kitchen essentials do you miss away from home? Have you ever gone out and bought something on vacation, even though you had one at home, because you just couldn't do without? (And if you did, did you leave the item as a favor to the owners or take it home as a spare?)
P.S. So, I know I said I didn't need a bigger knife, but now that I know this exists, I'm pretty sure it's coming on my next trip.

(Images: Anne Postic)
Kitchn supports our readers with carefully chosen product recommendations to improve life at home. You support us through our independently chosen links, many of which earn us a commission.