5 Recipes for a Week of Budget-Friendly Lunches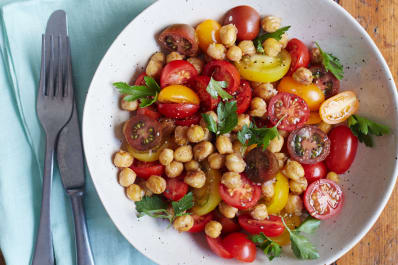 (Image credit: Lauren Volo)
One of the best reasons to pack your own lunch is that it's much easier on your wallet than running out to your favorite fast-casual spot every day at noon. These five recipes are proof of that and then some because they happen to be more budget-friendly than most. They also happen to be extra-satisfying meals you can make at the start of the week, keep in the fridge, and grab when you need them, which means there is no excuse not to try at least one of these recipes this week.
These savory muffins, studded with diced ham, fresh chives, lots of sharp cheddar, are the ultimate grab-and-go lunch. They pack up even easier than sandwiches yet are just as hearty. Plus, they keep for almost a week in the fridge and up to three months in the freezer.
A few cans of beans might seem like the makings of a ho-hum lunch, but when those beans are meaty chickpeas that have been pan-roasted and tossed with a heap of tomatoes, it's anything but. Plus, since tomatoes are in peak season right now, they are easy on the wallet.
Roasting the vegetables before piling them into these wraps ensures they are as flavorful and satisfying as possible. The wraps also keep quite well in the fridge throughout the week, so you can quickly grab them as you need them.
Sure, store-bought instant noodle cups are extremely friendly on the wallet, but they usually contain more than a few questionable ingredients. This DIY version is just as affordable, but the perk is you know exactly what is going in them.
Tuna salad is a lunchtime standby, and for good reason — it's budget-friendly and filling. This twist on the classic brings some shredded cabbage into the mix for crunch and swaps some of the mayo for Greek yogurt to lighten it up.