5 Things That Just Weren't Worth It at West Elm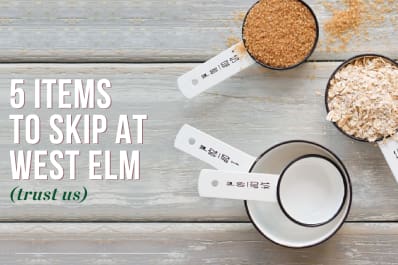 (Image credit: West Elm/ Design by Susanna Hopler)
There's a lot to love about West Elm — midcentury-modern-style pieces, all that copper, collaborations with artists and local makers — but not everything from the store is a home run, especially when it comes to kitchen items. While we'd all love to have kitchens outfitted with beautiful, stylish pieces, those pieces need to actually be effective (and safe!) to earn a permanent spot in our homes.
If you care about form and function, there are some West Elm kitchen items that we just don't recommend. Here are five we've tried and tested that sadly don't make the cut.
1. Copper Wire Kitchen Foldable Dish Rack
One Kitchn editor bought this super-stylish copper dish rack for her kitchen. The problem with it, she says, is that it only holds a few things at any given time — and those things are very easy to knock over. "It's so pretty, but so precarious," she says.
2. Enamel Measuring Cups & Spoons
Two of us staffers have these cute enamel-coated measuring cups and spoons. We both have a bit of an enamelware obsession and thought these would fit perfectly in our collections. Unfortunately, we also both assumed that these could go through the dishwasher, as the rest of our enamelware can. But boy were we wrong — now both of our sets have paint that is bubbly and flaked off. We should've read the care instructions with more ... care, but still! It's disappointing.
Note: These aren't for sale on West Elm's website anymore, but there is a similar (equally pretty!) enamel set available. Just make sure you hand-wash them!
3. Copper Oil + Vinegar Set
Another coworker says the bottles in this copper oil and vinegar set are difficult to grasp — oil drips from the spout, which means the glass body gets slippery and treacherous. "I dropped one the first week I had it and it shattered," she says. "I have to wipe down the surviving one all the time to avoid the same fate!"
4. Gold Flatware Set
This gold flatware set was on my wedding registry. I loved the matte gold and the fact that the care instructions noted the flatware was dishwasher-safe. After an initial run through the dishwasher, the flatware came out speckled with a rusty red dust. The dust accumulated in the bottom of my flatware tray, too, making it impossible to ignore every time I went to grab a fork or spoon. Needless to say, the idea of eating food with this flatware quickly became unappealing, so I returned it.
It's useful to note that the care instructions have now been updated to indicate that you should hand-wash the pieces, but interestingly the rose gold flatware set is still marked as dishwasher-safe.
5. Basic Kitchen Tool Set
I still have and use this basic kitchen tool set. I love the marble holder and the simple, classic look of the tools inside. The problem is, the care instructions note that the Universal Expert Collection tools (the ones with the silicone tops) are dishwasher-safe, while the solid teak tools are not.
Against my better judgement, I put the Universal Expert Collection tools in the dishwasher — that is, I did until the beech wood bottoms started to twist off from the silicone tops, and no amount of tightening will get them back in place. Now, whenever I spread frosting on a cake, the spatula rotates left and right — so frustrating!
This particular set is no longer available, but you can still purchase a set of the Universal Expert Silicone Utensils. The care instructions for this new set now indicate that you should hand wash the pieces — smart! I should've just trusted my gut.
Have you had any similar experiences with West Elm kitchen products? Or do you have pieces you truly love? Let us know in the comments!
Kitchn supports our readers with carefully chosen product recommendations to improve life at home. You support us through our independently chosen links, many of which earn us a commission.