5 Flexible Recipes for a Farm Stand Haul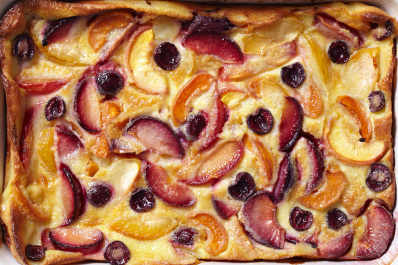 (Image credit: Brie Passano)
Summer may be winding down, but you wouldn't know it by the abundance of fruits and vegetables that are still showing up at farm stands and grocery stores. For those eating on a budget, it's also the best time of year to get amazing deals on fresh produce — especially if you can buy directly from the farmers. After you bring your big farm stand haul home, it's time to get cooking. Here are five recipes that use copious amounts of summer fruits and veggies, celebrating them in unique and tasty ways.
(Image credit: Brie Passano)
How to Deal with an Overabundance of Produce
Sometimes we get carried away and purchase too much of something because it's a good deal or just looks too amazing to pass up. My strategy in these instances is to plan and prioritize.
I first see what things are ready and should be eaten now. If I can't eat them up raw before they go bad, I turn both to preserving and finding smart recipes that call for large amounts of fruits and vegetables. Instead of finding five ways to use up peaches, I go for just one or two and focus all my energy there to be efficient.
(Image credit: Brie Passano)
Slow-Cook Your Produce into Submission
Your slow cooker is a handy helper for summer produce. It can turn pounds of puréed peaches into peach butter with very little effort from you. What you're left with are quarts of a peachy spread that, when stored in the freezer, can be pulled out in the doldrums of winter when you need a sunny, sweet lift on morning toast.
The slow cooker also makes amazing caramelized onions, which I also stash away in the freezer as a base for soups and stews. These onions can also take a starring role, however, especially when smothered onto flaky phyllo dough and topped with creamy Boursin cheese.
Break Out the Casserole Dish
A big summer haul means that you need to be efficient to deal with it all, and there's nothing more efficient than the trusty ol' 9x13-inch baking dish. It's the humble but mighty workhouse of kitchen equipment; the saving grace for feeding large families and gracing potluck tables.
This classic casserole dish can help turn piles of grated zucchini into a savory, cheesy casserole, bake eight bell peppers stuffed to the brim with a quinoa and black bean mixture, and even tackle dessert that will feed a crowd in the form of a French stone fruit clafoutis.
With any of these recipes, you can change up a lot of the ingredients, like the spices, herbs, or cheeses, to make them uniquely your own and use up what you might have sitting around in the pantry. Think of these as springboards that will help guide you into some new-to-you dishes for tackling all that summer produce.