5 Awesome Food Companies Capitalizing on the Solar Eclipse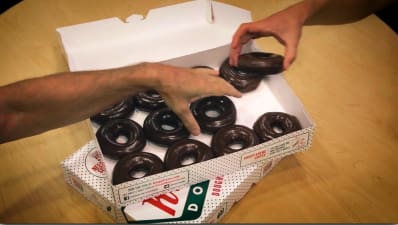 (Image credit: Krispy Kreme)
In case you weren't already aware, today is not an average Monday. Today North America is being treated to a solar eclipse. If you're in the "path of totality" — where the moon blocks out the sun — you'll witness one of of nature's most unique sights. And while you might not immediately associate food and cooking with an eclipse, some special brands are taking advantage of this cultural moment. Here are five that we think did it in a smart way.
1. Chiquita Banana
I love that Chiquita Banana was able to take this cultural moment and make it funny and about them.
2. Oreo
Oreo is known for jumping on cultural events, so you know they were all over the solar eclipse. The company created a video billboard in London to coincide with the exact movement of the sun during the eclipse.
3. Krispy Kreme
For the first time ever, Krispy Kreme is ditching their signature glaze and adding a chocolate glaze to coincide with the solar eclipse. For one day only (today!), you can get these "eclipsed" doughnuts at participating stores.
4. Denny's
Denny's is known for their brilliant social media accounts (seriously, do you follow them on Twitter?) and they have some smart things up their sleeve for the solar eclipse. To mark the occasion Denny's is selling all-you-can-eat
"mooncakes" for just $4.
5. Salt & Straw
To celebrate the solar eclipse, this Portland-based ice cream company is selling "black charcoal waffle cone tipped with edible gold and filled with marshmallow fluff, golden yellow ginger-spiced turmeric soft serve ice cream, topped with pop-rock-cratered-black sesame magic shell." Wow.