3 Ways to Liven Up Your Lunch Box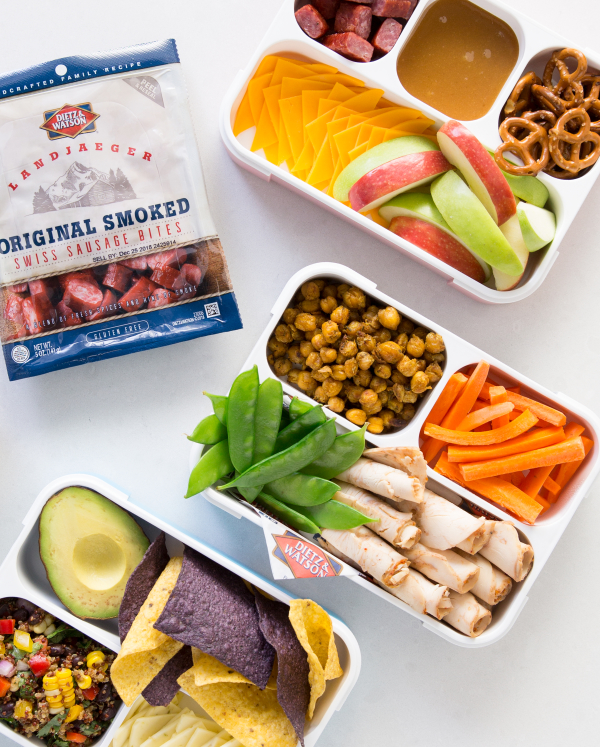 Here's a tip, both for kids going back to school and for grownups resetting their own daily grind for the fall: Snacks are the new lunch. It's way easier to throw together a good snack at 7 a.m. than it is to make sandwich magic out of the same old formula. And, if you're a nibbler, a well-balanced smorgasbord gives you more to work with than a sad desk sandwich. Once you lunch in Technicolor, the days of pre-packaged snacks and stale baby carrots will seem grayscale.
Ditch the Sandwich
Nothing will send you to the cafeteria line faster than something boring wedged between two slices of bread. Instead, lunch like you mean it with creative, snackable bites big enough to make a (really fun) meal. We teamed up with Dietz & Watson — the lunchtime gurus who have been crafting interesting, flavorful meats and cheeses for four generations — on three recipes guaranteed to liven up your lunch box.
(Image credit: Creative Studio)
Make Your Lunch Box Your Happy Place
D&W Landjaeger Bites + D&W Cubed Cheddar + Mini Pretzels + Apple Slices + D&W Zesty Honey Mustard
Meat, cheese, salty, sweet: This simple spread has every tastebud covered, young or old. Savory smoked sausage bites and mild cheddar are a lively match with a dot of mustard, and pretzels and apple slices add crunch.
D&W Harissa Chicken + Crispy Chickpeas + Snow Peas & Carrot Sticks
A protein-packed lunch keeps energy levels up for the afternoon, and protein doesn't get more interesting than spicy harissa-spiked chicken and our favorite crispy chickpeas, which can be seasoned a million different ways (approximately). Fresh, crisp snow peas and carrots are feel-good snacks.
D&W Hatch Chile Cheddar + Tex-Mex Quinoa Salad + Tortilla Chips

Turn Taco Tuesday on its head with a flavorful and fresh salad that will fill you up but won't leave you needing a siesta. With beans and quinoa for protein, tortilla chips for crunch, and hatch chiles for cheesy heat, this is a lunch box you'll actually be excited to dig into.
With four generations of experience, Dietz & Watson knows how to keep lunch boxes happy — it's a family thing.

This post is sponsored by Dietz & Watson and was created by the Kitchn Creative Studio.
Thank you for supporting the brands that make Kitchn possible.