My 3-Step Method for Spring Cleaning My Pantry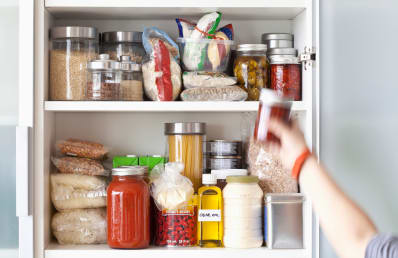 (Image credit: Jill Chen/Stocksy)
Around this time every year, I go a little crazy. It's spring cleaning season and for me, that means cleaning out my pantry. My Type A personality comes out loud and clear and my husband knows to just keep out of the way!
As the weather is just starting to turn, I find April to be the perfect opportunity to clear out ingredients that I might not rely on as heavily in the spring and summer to make room for new ingredients that I'd rather be leaning on in the warmer months.
If you're lucky enough to have a larger pantry than mine, you might not think this is as important as I do. But, for me, it's essential: Keeping our minuscule pantry organized can make a huge difference between getting dinner on the table and total chaos.
Still, it's good practice to assess what you have in your pantry, no matter what the size. Spices don't have a long shelf life, condiments expire, and forgetting about ingredients means losing a few dollars here and there that can add up. Plus, you never know what good things you might have lingering in your pantry!
Here's my three-step method.
My 3-Step Method for Spring Cleaning My Pantry
1. Assess what you have.
My spring pantry clean-out starts with a serious assessment of what's tucked away in my kitchen. I'll go through and jot down any items in there that I know I don't really use in the warmer months, like canned tomatoes and polenta.
I'll also write a list of condiments that are lurking in my fridge door and have an expiration date coming up soon. And I'll definitely poke into my freezer and add any meals I may have tucked in there for easy winter dinners — like soups and casseroles — to the list.
2. Build your weekly meal plan off this list.
Next comes the fun part. Instead of planning meals and then seeing if I have the ingredients for them, I switch things around and base my meals off the ingredients I want to use up. I actually find meal planning is a whole lot easier when you work with the ingredients already on hand — plus I end up trying new recipes in the process.
We'll eat our way through those wintery freezer meals (I'm looking at you, big container of lentil soup!), of course. And that third of a bottle of pomegranate molasses that's set to expire? It'll be the base for a sweet and tangy marinade for lamb kebabs.
This week creamy polenta is on the menu, with these feta and tomato braised chickpeas over it, using a couple of cans of diced tomatoes that are collecting dust in my cupboard.
3. Fill your pantry with fresh ingredients!
After I've worked my way through my list, I'll prep my pantry for spring. That means stocking up on some items I know I'll be reaching for through the season and into summer.
This time of year, I find myself making a lot of pesto with herbs from my little container garden so I'll pick up pine nuts. We also love to make pasta salads in the warmer months, for easy lunches and light dinners, so I'll stock up on a few boxes of dry pasta in fun, pasta salad-friendly shapes like orzo and fusilli.
On those nights when it's too hot to turn on the oven, we make summer rolls, so I'll grab some rice paper wrappers. And a bag or two of lemons gets tossed in the fridge's crisper drawer because I find they always make spring cooking taste a whole lot more fresh and bright.
How do you spring clean your pantry?