3 of Our Favorite Stores Are Great for Nursing Moms Too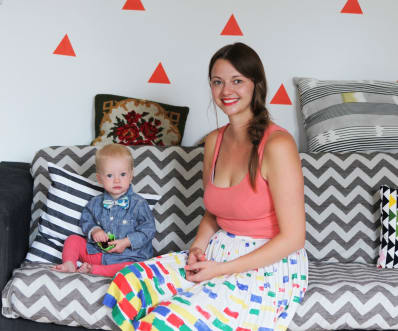 (Image credit: Rebecca Bond)
When you're a new mom and you actually manage to make it out the door with your infant, you feel like you have conquered the globe. Greasy hair and spit-up stained clothing, be damned — you're out in the world!
When your baby needs to nurse, however, there's a whole new layer of stress. Nursing in public, for some reason, is still something other people think they can comment on. Add to that the difficulty of learning how to nurse and you have a recipe for anxiety you just don't need. You should feel free to nurse wherever and whenever you and your baby need, but it's always good to know places that will make you feel welcome and comfortable.
Here are three companies that (after some serious missteps in the past) want to let you know normalizing breastfeeding is at the top of the agenda.
1. Target
Target has brand-specific snacks, lines from celebrity chefs, and even an entire grocery section in some stores. And now the company also has a breastfeeding policy that supports breastfeeding mothers in fitting rooms at any time, reminds staff not to interrupt a breastfeeding mother, and instructs staff to direct the breastfeeding mother to a fitting room (specifically not the restroom) for her privacy and comfort.
2. Starbucks at Barnes and Noble
You can't get your standard milk and eggs here, but you can get an indulgent coffee drink and a new book, so it's a win. Plus, if you're in New York at one of these bookstore cafes, you will be welcomed by a staff recently trained in sensitivity and proper protocol with breastfeeding mothers. This policy would benefit mothers and children nationwide, and will hopefully be adopted as a companywide policy.
3. IKEA
You might go for the Billy bookcases, but you know you stay for those frozen bags of Swedish meatballs and delicious crispy cookies. Now, you can munch those cookies while your little one also enjoys a snack, at least according to one sign in a U.K. store that invites all breastfeeding mothers to use any comfy couch, loveseat, or chair they see to nurse little ones.
Although this has not been made companywide policy in the U.S. and there have still been infractions in individual stores (condemned by the company), it's a starting point. Now it's up to IKEA to take this policy worldwide.
What are the best stores to nurse in? Have you had any good experiences? Please let us know in the comments.
Kitchn supports our readers with carefully chosen product recommendations to improve life at home. You support us through our independently chosen links, many of which earn us a commission.