3 Kitchen Habits for Faster, Better Meals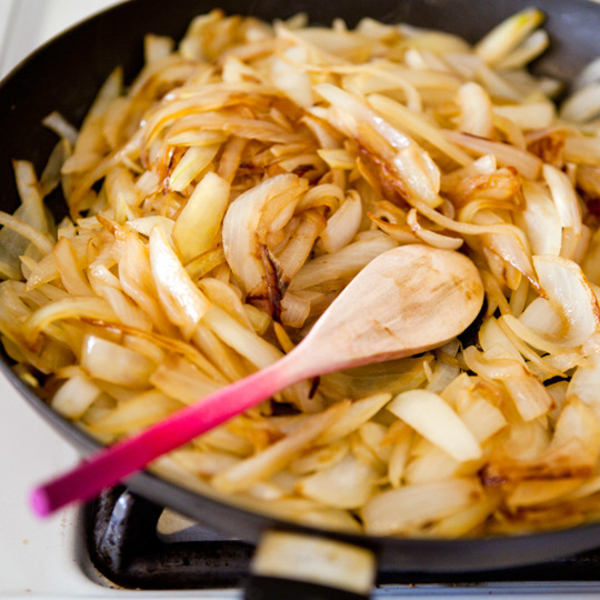 We are always looking for ways to save time in the kitchen. There aren't many real shortcuts to great food, but you can save time and take your meals to another level by doubling-up on your time in smart, practical ways. Here are 3 habits that, once developed, will help you create faster, better-tasting meals week in and week out.
1. Caramelize onions while you wash the dishes
Got a half hour of washing dishes ahead of you? Have a mountain of laundry to fold or some day dreaming to catch up on? Caramelize a pan of onions and freeze them for later. Use in omelets, sandwiches, and quick pasta dishes.
All you need is a large skillet, a good olive oil or knob of fresh butter and a very low heat. Stir every five minutes or so to prevent burning and enjoy the aroma that wafts its delicate flavors throughout the home.
My own favorite way to use caramelized onions is on top of pizza dough for an elegant flatbread appetizer. Brush a little olive oil on a flattened portion of dough, spread onions evenly and top with a little flaky salt and fresh rosemary.
2. Freeze leftover lemon juice, or zest
Making a salad dressing? Zesting a lemon? Save whatever is left — put zest or juice in ice cube trays and save it for future baking or lemonade projects.
• Quick Tip: Freeze Citrus Zest
The acidity of lemon juice can add brightness and balance to almost any recipe. It's crazy how many lemons I go through in one week, between squeezing them into water jugs all day long to seasoning just about every grain salad I whip up, to my favorite use; adding fresh flavor to any baked good I'm testing. Lemon juice and zest, when used sparingly, can be the secret ingredient that will tickle the taste buds and delight eaters.
3. Cook a big pot of quinoa over the weekend
Toss the quinoa in a salad, or eat the beans with some fresh vegetables for a fast, nearly instant meal after a long day of work.
I put on a pot of quinoa every Sunday to throw into lunches, making a salad a whole meal with added heft of whole grains and protein. The versatile grain can also stand in for oatmeal during breakfast time; it cooks beautifully with fresh fruits, coconut milk and topped with toasted coconut. It's also delicious mixed with roasted vegetables, homemade vinaigrette, dried currants and sunflower seeds for a quick vegan meal that will satisfy. Quinoa is endlessly versatile and a great addition to any pantry.
Sponsored by P&G Future Friendly: Procter & Gamble's sustainability initiative.
(Images: Leela Cyd Ross)
Comments have been disabled.