3 of the Best Shopping Tips I Learned While Working in a Grocery Store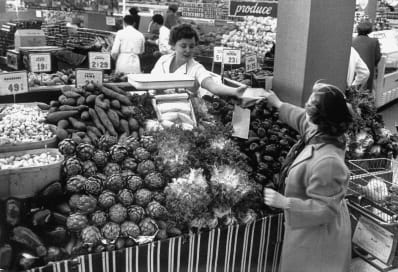 (Image credit: Ralph Morse/Getty Images)
I've always loved grocery shopping, so it seemed like an obvious place to get a part-time job while I was finishing up my college degree. Along with stealing a sneak peek into weekly store sales and getting first dibs on new products, I also learned many helpful shopping tips that I still use to this day.
Here are my top three shopping tips, which I like to I share whenever I can.
1. Always pull from the back.
Grocery clerks are taught to stock new products from back to front, so that the oldest products sell first. Reach all the way back there and whatever you pull out should have a later expiration date that the stuff closer to the front of the shelf. This rule goes for all departments, even the floral department where I also spent some shifts.
2. The back room is a goldmine of extras.
When in doubt, if an item is out of stock or you need more of it (especially during a great sale!), always ask if they have extra product in the back because they probably do. There are literally pallets on top of pallets with extra groceries in the back (plus boxes of cleaning supplies, wellness stuff, and other specialty products). The back room is even loaded with coolers full of extra milk and more fresh flowers, and freezers full of bakery goods. Ask a manager if a store employee won't check for you because there is probably more of whatever you need somewhere.
3. The fresh-baked goods aren't really fresh.
Even the bread that's baked daily in the bakery is not really fresh — or at least not in the way you imagine. Although some stores do bake everything from scratch, most rely on pre-cooked frozen versions of baked goods. Most everything in the store I worked in was pre-baked and frozen or packaged in large tubs (like icing, pudding, etc.). This was even true for the cakes along with the pies and specialty pastries — even those "fresh from the oven, hot and ready donuts!"
Does this mean the baked goods aren't good and not worth buying? No, but it's important to know so you don't expect the same thing as if you made it at home. Plus, some stores even allow you to buy pre-baked items if you just want to take a frozen loaf of bread home and bake it yourself.
Bonus Tips
Learn your produce department's delivery days when they receive fresh produce (a manager should be willing to tell you).
Ask for discounts on older produce.
Ask your florist for tips on caring for plants you've never had before.
Have you ever worked at a grocery store? Do you have any other insider knowledge to share?