20 Summer Desserts That Make Turning the Oven on Worth It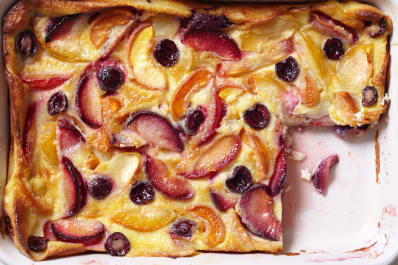 (Image credit: Brie Passano)
When summer is in full swing and the temperature is rising by the minute, it can be hard to even think about turning on the oven. While it's tempting to subsist on salads and ice cream until after Labor Day, doing so would mean missing out on a few summer treats that do require some heat. Crank up that oven and I promise it will be worth it. You'll be rewarded with nectarine upside-down cake, s'more brownies, blueberry pie, and more — all of which are just as an important part of the season as ice cream. Here are 20 of the best summer dessert recipes that make turning on the oven worth it.
Light Baked Desserts
Desserts that don't weigh you down are perfect for when the weather is extra hot. These recipes embrace the flavors of summer but are light and bright, even on the stickiest of days.
Summer Cakes
Celebratory cakes are required in every season. So come summer, it makes sense to crank up the oven to bake a cake that's full of seasonal fruit.
Bar Cookies
Bar cookies are our top pick when it comes to a sweet that fits the bill at pool parties, potlucks, barbecues, and picnics. While they are super easy to pack up and transport, they are even easier to gobble up.
Pies, Cobblers, Crumbles, and More
Summer just wouldn't be summer without indulging in a few fruit pies and rustic desserts like cobblers and crumbles. The key is just not to forget the vanilla ice cream.