20 High-Protein Vegetarian Recipes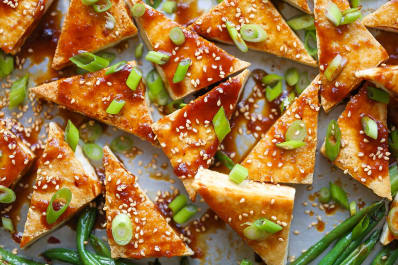 (Image credit: Chungah Rhee)
Vegetarians are often told that it's hard to get their daily fill of protein since they don't eat meat, but that's not true. Eggs, beans, cheese, and yogurt are all full of protein, making the possibilities to eat a meal rich in the nutrient almost endless.
Here are 20 ways to eat a protein-rich meal even if you don't eat meat.
Tofu, Tempeh, and Edamame
Soy products are one of a few complete proteins that are vegetarian. A complete protein is one that contains all nine essential amino acids — compounds that help our bodies build muscle, tissue, and more — while an incomplete protein only has some of the nine, which means you aren't getting as rich of a protein punch when you eat them.
More on protein and complete protein: Protein 101: What Is Protein and What Does It Do for Our Bodies?
Tofu is a vegetarian favorite, with 10 grams of protein in just 1/2 cup, but don't forget about tempeh and edamame too.
Eggs, Yogurt, and Other Dairy
Eggs and dairy are the other two heavy-hitters among complete proteins for vegetarians. There are six grams of protein in one large egg, while yogurt, particularly Greek, is also a good pick with 10 grams of protein in 1/2 cup. All cheese contains varying levels of protein, but they are all good choices, so adding any to a meal will give it a protein boost.
Beans and Legumes
While beans and legumes are incomplete proteins (they don't contain all nine essential amino acids), they still pack in a lot of protein in one serving. If consumed as part of a healthy, balanced diet, there's no need to worry that you won't get all nine essential amino acids throughout the course of the day. Whether you choose chickpeas, black beans, white beans, lentils, or another one of your favorites, they are all very good protein sources, containing anywhere from seven to nine grams of protein per serving.