18 Salads to Make All Summer Long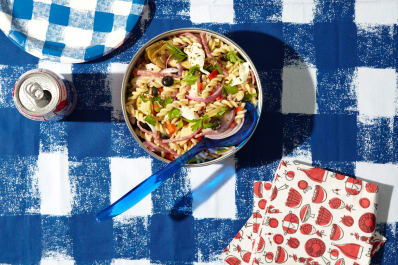 (Image credit: Brie Passano)
Salad falls into the category of foods that I can make again and again, particularly during the height of summer. It's a chance to turn my farmers market haul into dinner, clear the crisper, and keep the oven off. Come pasta night I will gladly trade my jarred marinara for a zippy pasta salad.
From light and nourishing veggie-heavy blends and broccoli Caesar to summer classics like panzanella and tabbouleh, here are 18 salads to make all summer long.
Veggie-Heavy Summer Salads
After you've worked through some of your favorites, use these salads as inspiration to revel in the bounty of fresh summer produce. Whether you prefer to skip the greens all together or you'd rather double down, there's a little something here for everyone.
Pasta Salads
Pasta salads are a summer staple, and there's no reason to wait for your next potluck to tuck into one. Add one of these zippy recipes into your meal plan rotation for pasta night.
Grain Salads
Not only will this lineup treat you to a hearty dinner, but the leftovers also hold up well in the fridge — so consider tomorrow's question of what to make for lunch solved. Pull out your Instant Pot for a speedier, heat-free way to get grain salads on the dinner table.