17 Alcohol-Free Mocktails, Punches, and Spritzes for Patio Season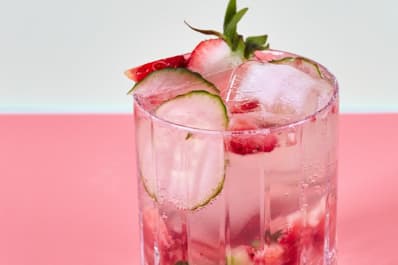 (Image credit: Lauren Volo)
Summer wouldn't be summer without plenty of lazy afternoons and evenings on the front porch and patio potlucks galore. It is your signal to break out the colorful straws and be sure there's plenty of ice at the ready, because if there's one thing these summer gatherings deserve it's cool spritzes, punches, and mocktails that will delight the whole crowd. Go beyond the usual iced tea and lemonade to stir up one of these made-for-summer drinks, destined to be a new favorite.
From a fizzy tea-inspired mocktail to an herby watermelon punch, count on these drinks to keep you and your pals cool.
3-Ingredient Mocktails
There are just three basic ingredients that stand between you and one of these totally fancy mocktails. These booze-free drinks are inspired by popular cocktails and rely on flavored simple syrups, muddled fruit, and tea for big flavor and a sometimes unexpected twist. Stir up any of these and you're guaranteed to impress your guests.
Fruit-Filled Punches
Not to be confused with the fruit punch of your youth, these big-batch favorites start with ingredients like fresh melon, ripe nectarines, and jewel-toned hibiscus tea. These refreshing punches are just right for a crowd of all ages, and sipping well on through the day.
Spritzes
When you're in the mood for bubbles, seltzer is just fine — but you can do so much better. For a refreshing, fruit-forward non-boozy drink with an effervescent twist, it's time to stir up a spritz.