15 of Our Best Chicken Casseroles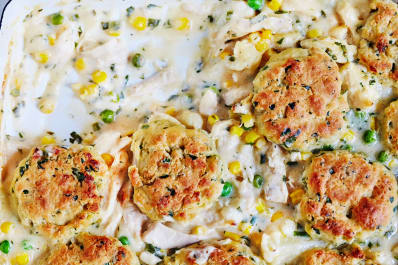 (Image credit: Lauren Volo)
We love a good chicken casserole. In all its many forms, this dish brings easy, comforting home cooking to any meal plan. On weeknights it's the one-pan meal that comes to the table with a little something for everyone. For a low-key Sunday night dinner you can have classic chicken and biscuits cooked all in one dish.
Here are 15 of our favorite ways to bring the comfort of a chicken casserole to the dinner table. Reach for them when you're craving something fast like a weeknight-friendly chicken empanada pie, or something classic like chicken and wild rice. No matter what, there's something here to bring to your family table.
Comforting Chicken and Vegetable Casseroles
From chicken and biscuits in a dish, to the classic King Ranch, these casseroles will make you feel good about checking off the veggie box for tonight's dinner, but they also treat you to comfort food through and through.
Chicken and Rice Casseroles
Look to the pantry! Chicken and rice is a dinner combo that just never gets old. These casseroles are hearty and totally satisfying.
Chicken and Pasta Bakes
These meals check off our favorite types of weeknight meals: pasta night, chicken night, and casserole night. Why choose one when you can have all three together in the same bite? Best of all, these dinners come with easy prep and easy cleanup.