12 Snacks to Enjoy When It's Too Hot Out to Do Anything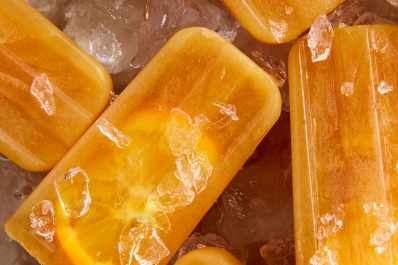 (Image credit: Andrea D'Agosto)
There's just something about midday heat on a sticky summer afternoon that makes you want to snack. But not just any ol' snack is going to cut it — when it's too hot to even think, you need a snack that's going to cool you down fast. Here are 12 that fit the bill.
1. Frozen grapes
Stick a bunch of red or green grapes in the freezer for a couple of hours and each one turns into a crunchy, cold, and incredibly refreshing treat. If you can get your hands on cotton candy grapes, you'll be in for a real treat.
Get the Scoop on this Hot-Weather Treat: Frozen Grapes
2. Avocado Toast
Creamy avocado is meant for hot summer days, so avocado toast is an obvious afternoon choice.
Get Fancy: 11 Easy Ways to Fancy Up Your Avocado Toast
3. Popsicles
It doesn't matter the flavor or whether it's homemade or store-bought — any and all Popsicles will do the trick.
Get a Recipe: 10 Popsicles Recipes to Cool Off with This Summer
4. Watermelon
Watermelon is the classic summer snack, and for good reason. Just cut it into thick slices, take big bites, and let the sticky juice run down your chin. To make it even more refreshing, stick the slices in the freezer to get them nice and cold.
5. Deli Turkey + String Cheese
This is Associate Food Editor Megan Splawn's go-to healthy snack when the temperature climbs. Wrap a slice or two of deli turkey around string cheese for a cold, high-protein bite.
6. Mini Caprese Skewers
Not only is caprese the ultimate summer salad, but it's also the ultimate summer snack. Thread cherry tomatoes, bite-sized mozzarella balls, and basil on skewers for a colorful snack that's healthy and satisfying.
Get a Recipe: Tomato & Mozzarella Caprese Skewers
7. Granita
Similar to sorbet, this Italian shaved ice is more like eating the best snow cone of your life. Plus, you don't need anything more than some fresh fruit, sugar, water, and a shallow baking dish to make it.
Get a Recipe: How To Make Granita
8. Prosciutto and Melon
When you can't decide if you're craving something salty or sweet, this is the snack to reach for. Wrap a thin slice of prosciutto around a slice of cantaloupe, eat, and repeat.
9. Any Kind of Smoothie
Like Popsicles, it doesn't matter what kind of smoothie you decide to sip on — just make that smoothie icy and sweet and it will break the heat.
Get a Recipe: 12 Easy Smoothies for Hot Days
10. Chocolate-Dipped Frozen Banana Bites
Dip banana slices in chocolate and freeze them to make sweet treats you can grab when the heat hits you. Roll the bites in colored sprinkles to make them extra fun.
Get a Recipe: How To Make Chocolate-Dipped Frozen Banana Bites
11. Cucumber with Black Pepper and Lime
Sprinkle cucumber sticks or slices with a few grinds of black pepper and a big squeeze of lime juice and you've instantly upgraded an otherwise boring vegetable.
12. One-Ingredient Ice Cream
Frozen bananas strike again. Using just a blender or food processor, they're blended into a creamy "ice cream" that involves absolutely no actual cream or milk.
Get a Recipe: How To Make Creamy Ice Cream with Just One Ingredient