12 Hostess Gifts for Your Favorite Foodies — All $30 or Less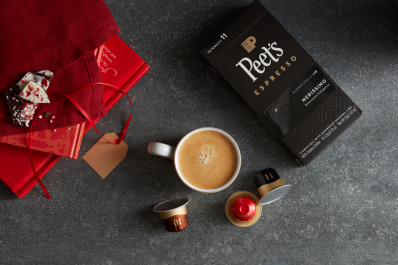 (Image credit: Peet's Coffee)
It's that time of year again: Cocktail gatherings, dinner parties, and other festive shindigs are slowly filling up most of your weekends. And while all that socializing is (generally) fun, being a good guest takes a bit of forethought, as anyone who's ever made a panicked pit stop at a wine store while en route to a discerning pal's party knows.
There's of course nothing wrong with a bottle of vino, but during the holidays it can get a little repetitive — fast. Instead, stock up on these prezzies, sure to delight the foodie who's so graciously welcoming you into their home. They'll show your great taste, and at prices that won't eat into your gifting budget.
(Image credit: Peet's Coffee)
There's something transporting about sipping espresso, which is exactly what your host could use when surrounded by dishes and cleanup the day after the bash. Peet's Espresso capsules deliver deep, rich flavor without the work. Just pop a capsule in a Nespresso® Original machine and you'll get an exact pull with a rich crema. This sampler pack features a variety of flavors — from the Ricchezza, with berry and brown sugar notes, to bold and bittersweet Nerissimo.
(Image credit: Goldbelly)
Staying overnight? Cross breakfast off your host's list by bringing a loaf of sourdough and a jar of yummy jam. This spread, in flavors like Poires Williams de la Drome (Pear) and Mademoiselle Cerises Blanches Napoleon et Petales de Roses (White Cherries & Rose), is shipped straight from a tiny village in France. Sweet!
(Image credit: Williams-Sonoma)
We all have that one pal who's a bonafide Potterhead, so show them you appreciate their penchant for the series and their wizardry in the kitchen with these novelty spatulas. They'll add a bit of magic to everything your friend cooks.
(Image credit: Peet's Coffee)
Odds are, your host's cabinets contain a mish-mosh of coffee mugs. But we'd venture to guess they're short on classically chic espresso cups at the ready for everyday sipping. Toss a handful of Peet's Espresso capsules into this pair if you really want to earn the Outstanding Guest distinction.
How many times a week do you find yourself googling how many tablespoons are in a cup? This tea towel made of absorbent linen will look charming hanging on your host's oven, and it'll save her hours of conversion math.
(Image credit: Goldbelly)
Show your pal you know how to pick 'em. Nothing says cozy like ooey-gooey caramel apples, and if your host has kiddos, this DIY kit will come to the rescue in the likely event Mom or Dad hears "I'm bored!" during holiday break.
(Image credit: Wine Enthusiast)
7. Label Savers, $12.95 for 10 at Wine Enthusiast
A wonderful bottle of wine makes a meal memorable, so why is it so hard to remember what bottles you loved, so you can enjoy them again? These label savers let your favorite oenophile easily peel the label from their favorite bottles and turn them into laminated mementos. Cheers to that!
(Image credit: Peet's Coffee)
8. Brew Book, $25 at Peet's Coffee
Is "stop buying $5 lattes every day" on your friend's resolution list again this year? Help make their intention a reality, with this beautiful guide to brewing a perfect cup of Joe at home. It features the pro secrets to being your own barista, whether your preferred method is pour over, French press, or any other technique, really. Plus, it looks beautiful gracing the coffee table, when not being used as a reference!
These foil-wrapped suckers have a cult-like following, and for good reason. The butterscotch is smooth and creamy and the chocolate is light and satisfying, and each one lasts a decadently long time (about a half hour, according to one satisfied fan!).
(Image credit: Peet's Coffee)
Help your host get her hygge on, with a box of interesting tea blends to warm up the chilliest of winter days. This collection features 16 individually wrapped, hand-stitched pouches of Mighty Leaf's best-selling organic blends like Earl Grey and Mint Melange.
(Image credit: Uncommon Goods)
You can never have too many cheese plates! These gorgeous stone platters have a hint of shimmer and a whole lot of style and, bonus, agate is thought to help balance human energy (if your pal's into that kind of thing).
12. B'Day Truffles, $25 for a box of 12 at Milk Bar
Bringing dessert to a dinner party is a nice idea, but it puts pressure on the host to serve it that night. Instead, bring a box of sugary treats your friend can munch on for the rest of week. These vanilla rainbow cake truffles are completely irresistible and at two bites apiece, they're perfectly portioned for when you want just a little something sweet.
Post by Daisy Sanders