11 Bottles of Wine Under $12 to Bring to Thanksgiving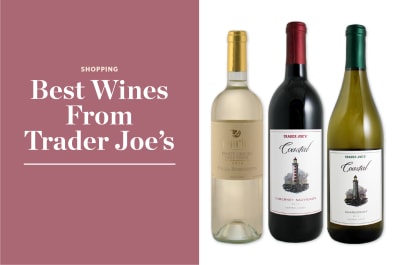 (Image credit: Trader Joe's)
Turkey and stuffing are the stars of Thanksgiving — and they'll make an even better impression when paired with some really good wines. Where to shop? Trader Joe's is the place to go for inexpensive wine. They have an amazing selection, and it's no trouble at all to find some really great options for less than $12. It's even possible to spend less than $6 and still find something that will taste great with grandma's sweet potatoes.
Stock up now, because the last thing anybody wants is to run out of wine during Thanksgiving dinner.
Whether you're looking for a nice bottle to bring to your host, or to stockpile enough wine to make sure all your guests are covered, here are 11 great bottles of wine from Trader Joe's to bring to Thanksgiving.
Rebuttel Chardonnay, $7: A full-bodied Chardonnay pairs beautifully with the Thanksgiving turkey, and this Rebuttel Chardonnay is elegant, dry, and fruity, with just a hint of oak. It's just a little bit buttery and has a crisp hint of apple and Asian pear.
La Ferme Julien Rosé, $5: This crisp, refreshing wine has delicate red fruit, flowers, and citrus aromas. It's a blend of Syrah, Grenache, and Cinsault grapes and has a light pastel pink color. It's very aromatic and fresh, and it's wonderful with poultry and charcuterie, so it's a perfect rosé option for Thanksgiving.
Petiole Pinot Noir, $10: Pinot Noir is an excellent wine for Thanksgiving dinner. It tends to be smooth and fruity, and is a great red for turkey and stuffing. This one comes from Oregon, which has fantastic Pinot Noir vineyards, and it has elements of strawberry, oak, and toffee. It's a dry wine with a smooth finish that would be great with a roast turkey and sweet potatoes.
Secco Peach Bellini Sparkling Wine, $5: Bellinis aren't traditionally associated with Thanksgiving, but they're a great way to greet guests at the beginning of the party. There are a lot of bottled bellinis on the market now, and this is a particularly good version. It's sweet enough for people who like that sort of thing, but not so sweet that it's going to make anybody make the pucker face. Plus, it comes in a pretty bottle.
Villa Borghetti Luna Pinot Grigio, $5: If you know someone is going to ask for a Pinot Grigio, this is a good bottle to have on hand. It's light and crisp, with notes of pear and apricot.
Cherry Blossom Pinot Noir California, $4: Cherry Blossom is basically the Pinot Noir version of Trader Joe's famous Charles Shaw Chardonnay, or "Two-Buck Chuck." It's designed to be the best possible wine at the lowest possible price point. It's smooth and dry, but is fruit-forward and has robust notes of fruit, berries, and chocolate cherries, with a bit of toasty oak. It also has such a pretty bottle, and that makes a big difference when you're bringing wine to a party.
DueTorri Pinot Noir, $8: This light-bodied Italian red wine has a delicate bouquet of red cherries and mild tannins. It's best when served lightly chilled to around 55°F, and it goes very well with chicken and turkey.
Billy's Shadow Cabernet Sauvignon Shiraz Merlot, $9: This 2014 vintage blend from Australia is crimson red with a dark berry flavor. Tasting notes describe cranberries, cherries, blackcurrant, and warm spices. There's some oak and cedar and a creamy finish. It'll be great for the cooler November weather.
TJ's Coastal Chardonnay, $4.50: This is a crisp Chardonnay that is fruit-forward but not too sweet, with peach and apple flavors and a nice richness. It's aged in stainless steel tanks and there's no oakiness to it. It's flavorful and pretty balanced and just a bit buttery.
Grifone Primitivo Puglia, $4: This Grifone Primitivo is one of the best deals at Trader Joe's. It's from Puglia in southern Italy, and it's a deep, garnet red. It's made with Zinfandel grapes, but it's not quite as spicy as American Zinfandels. It's full-bodied, warm, and fruity, with strong tannins. It's great with cheese.
Col Sassoso Lambrusco, $12: If you really want to surprise people, offer a sparkling red wine. This dry, sparkling red is out of the ordinary, and it makes a great impression. It's dry but effervescent, and it has strong notes of fruit. It should be served chilled, and it goes particularly well with root vegetables and squash.
Kitchn supports our readers with carefully chosen product recommendations to improve life at home. You support us through our independently chosen links, many of which earn us a commission.