10 Things We Learned About Olympians' Eating Habits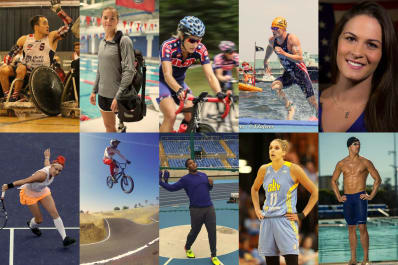 (Image credit: Top Row: Kelly Gumbert, U.S. Olympic Committee, Joe Kusumoto, Tommy Zaferes, U.S. Olympic Committee/NBC Olympics Bottom Row: Getty Images/WTA, Kurt Pickard, Tavis Bailey/Instagram, Allen Kee/ESPN Images, Dolfin Swimwear)
This month we've had a serious case of Olympic fever. In addition to our (we think) extremely clever recipe round-ups, we got into the nitty-gritty of the daily eating regimens of 10 Olympians and Paralympians. We talked to swimmers and wrestlers, basketball players and triathletes about the foods that fueled them in preparation for, perhaps, the most important competitions of their lives.
Here is what we found out.
1. They eat the same thing every day (pretty much).
Without exception, the athletes we talked to had extremely regimented eating schedules. They might rotate between pancakes and French toast, or salmon and tilapia, but their diets are very much a part of their training routine.
2. They snack between meals.
A day of eating doesn't just include breakfast, lunch, and dinner, but also snacks in between. Often that means a protein shake, but other favorites include apples or bananas with peanut butter, Greek yogurt, granola, and dark chocolate.
3. They crave sweets.
From ice cream and cookies, to mini candy bars and fruit roll-ups, most of these athletes admit to having something of a sweet tooth.
4. They eat oatmeal for breakfast.
BMX Racer Nic Long starts his day with a bowl of oatmeal with strawberries and blueberries — oh, and toast with an egg and avocado, too. And discus thrower Tavis Bailey has mastered the art of instant oats at the office, using the water cooler and the microwave.
5. They load up on fruit and veggies.
Hoop player Elena Della Donne loads up on vegetables with a salad for lunch, and a side of sweet potatoes and another vegetable with dinner almost every night. Cyclist Jamie Whitmore always has fruit and OJ as part of her breakfast, and she also snacks on fruit — especially in the summer when she eats as many strawberries, melons, and plums as she can.
6. They meal plan.
This is especially true for Bailey, a first-time Olympian who also has a day job. He leans heavily on his pressure cooker to make his meals for the week on Sunday night. Wrestler Adeline Gray likes to whip up a big batch of yogurt chicken salad, which she'll eat in a wrap, with crackers, or just straight-up.
7. They eat protein for breakfast.
Swimmer Tucker Dupree tucks into oatmeal first thing in the morning, but he gives his bowl a protein boost by adding peanut butter (and Craisins "because they're delicious.") Gray supplements her oatmeal with plenty of seeds — or just goes full-on protein with chicken for breakfast.
8. They struggle with their weight.
Because of all the high-intensity training, Gray actually has to work hard to keep her weight up and Bailey had to up his caloric intake to match his pre-Olympics regimen.
9. They drink coffee.
Many of the athletes include coffee in their daily regimen, but especially Triathlete Greg Billington who has coffee in the morning and another in the afternoon if he has a long bike ride ahead of him.
Besides blueberries, which we spotted in a few Olympians' diets, Dupree has a fondness for Skittles, but only the blue ones.