10 Things to Do After Any Party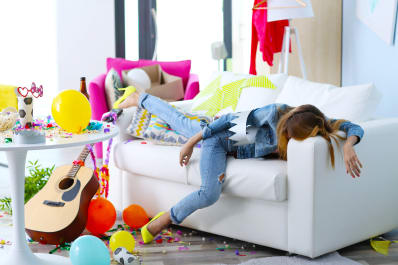 (Image credit: Africa Studio/Shutterstock)
You ate, you drank, and you were merry. You even aced all of your hostess duties; friends and family alike had an amazing time, thanks to your expert planning and flawless execution. But did you do all of these things before you went to bed?
Next time, here's a checklist of 10 things to do right after your party — you'll be thankful you did in the morning.
1. Check, recheck, and triple check that candles are blown out.
This one speaks for itself. Often times during parties you might have candles in places you normally don't have them. So look around a few times to make sure they're all blown out.
2. Dump or cork the booze.
That lingering quarter of a beer, half of a cocktail, and half-empty bottle of wine — if you leave them sitting out, your living room could end up smelling like a frat house post-party. Plus, forgetting to cork that open bottle of red will likely ruin it (and you never know when you might need the rest of it).
3. Put away all fridge items.
You don't want to have to toss items the next day just because you forgot to refrigerate them. Save yourself some money and round up everything that absolutely needs to be put away for food safety purposes.
4. Treat any stains on rugs, tablecloths, and your dress.
A spill or stain is par for the party course. But before it sets, hit it with your rug cleaner or stain treater of choice. The chances of it coming out will be much higher if you get to it that night.
5. Rinse out the sink .
A few drops of merlot in the sink can stain, especially if your sink is white (we're looking at you, farmhouse sinks!). Give the surface a quick rinse — just in case.
6. Soak any pots, pans, or dishes with stuck-on gunk.
No need to spend a good portion of your morning scrubbing dishes if you don't have to. Let dishes with stuck- or burned-on food soak in some soap and hot water. Tomorrow, you will have an easier time at the sink.
7. Take out the trash.
Just think about what happens to fish, cheese, or pâté in a warm house overnight. The smell will be a nightmare in the morning — and it will linger. Trash what you can, tie up the bag, and get it in the can.
8. Lock all the doors.
You might have guests coming in and out of doors you don't normally use. Be sure to lock them all before nodding off.
9. Adjust the thermostat.
You may have been making it cooler or warmer to accommodate everyone. Put the thermostat back to its regularly scheduled program, so you don't wake up sweating or freezing in the middle of the night.
10. Take care of yourself.
No matter how sleepy (or buzzed) you might be, wash your makeup off, brush your teeth, and drink a little bit of water before bed (especially if you're buzzed). You'll wake up in the morning feeling so much better than if you passed out on the couch ... in your party clothes ... streaming episodes of Murder She Wrote. We promise.
These little things add up to the day after feeling totally doable instead of making you not want to get out of bed. It's even better if you've got someone to help split the list with. Divide and conquer! Then sleep!
More posts in 10 Tiny Organizing Tips
You are on the first post of the series.
You are on the last post of the series.