10 Quick & Easy Sides to Serve with Soup for Dinner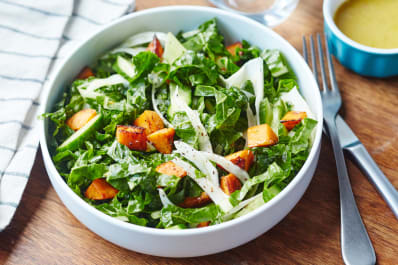 (Image credit: Lauren Volo)
Over the course of the winter, I cook up a pot of soup at least once a week to help keep warm my bones and fill my belly. To turn soup into a well-rounded dinner, though, it's nice to have something else at the table, like salad or crusty bread. I especially like these 10 recipes that always feel like a perfect match, regardless of the kind of soup I'm making.
This green salad swaps Swiss chard in for other more common salad greens to give it a seasonal twist, while cubes of sweet potato add color and textural contrast.
This easy recipe turns yesterday's mashed potatoes into a comforting side for any bowl of soup. Beyond flavoring the puffs with cheese, trying experimenting with things like sun-dried tomatoes, garlic, or spinach.
Sure, roasted broccoli may seem simple, but that's exactly what I love about it. It's the perfect accompaniment to any meal, including soup.
The warm brown butter dressing adds a cozy element to the salad, which plays well with the already-cozy bowl of soup that it's paired with.
Soup and bread are always a winning match, but make that bread a cheesy, pull-apart situation and it's a whole new, wonderful world.
Reach for pre-shredded carrots at the grocery store to make this colorful salad even easier to whip up. Leftovers also hold up well for a few days, so save them for lunch.
This recipe is a whole lot more than simply sautéed kale, thanks to the addition of plenty of garlic, red pepper flakes, and strips of salty salami.
These roasted zucchini boats are fast to whip up on the spot, but if you'd rather get ahead, you can prepare the zucchini and the crumb mixture separately, refrigerate both for up to a day, and roast before serving.
These garlicky toasts are basically like the best pita chips you've ever had. Dip them and crumble them into your bowl of soup as you please.
Sometimes the best side for soup is the simplest, like this crisp, refreshing arugula salad that you hardly even need a recipe for.