10 of Our Most Refreshing Summer Soups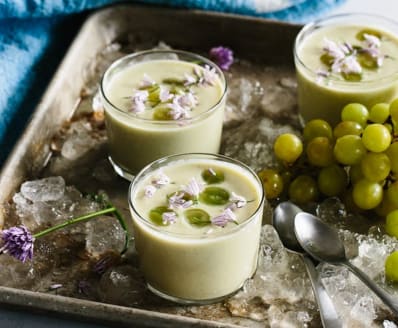 (Image credit: Christine Han)
As soon as summer hits, I gleefully trade soup night for salad night. I think I will never tire of light and refreshing salads featuring all those fresh fruits and veggies I picked up at the farmers market — until I do. In my household, this usually happens around the first couple of weeks of July. We desperately start craving something (anything!) other than salad.
The answer is chilled soup.
Why Chilled Soup Is the Best Summer Dinner
I know, I know — soup doesn't feel like the right answer when it's so hot out you can barely move, but hear me out.
Most summer soups are no-cook situations, which means there is no need to worry about heating up the apartment. Plus, many are even easier to assemble than a salad. Just toss a handful of tasty things in a blender, hit the switch, and you've got dinner.
These soups also tend to improve after a night or two in the fridge, when the flavors can really mingle with each other. That means you can make a double batch, enjoy some tonight, and save the rest for lunch or dinner tomorrow.
Convinced? Here are 10 chilled soup recipes to try this hot, steamy summer that are guaranteed to cool you down.
All the Gazpacho
Is gazpacho the first thing that comes to your mind when you think of chilled soup? It is for me, at least. It's hard not to love the Spanish soup, whether it's rich with the summer's best tomatoes or it's a white version, loaded with garlic, almonds, and other fresh veggies.
Other Great Chilled Soups
Summer soup definitely doesn't end with gazpacho, however. Whether it's France's favorite potato-rich vichyssoise or a creamy, tangy yogurt soup that's made more satisfying with the addition of cooked barley, these recipes will definitely cool you down.