10 of Our Favorite Hotel Bars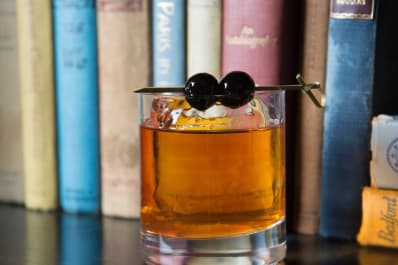 (Image credit: The Hawthorne)
The hotel bar is a magical place where anonymous locals and transient travelers congregate; where it's acceptable, and perhaps expected, that the person who just ordered a Negroni is a solo traveler who will devote the next hour to reading 1984 in peace; and where forbidden dalliances are more inclined to erupt with the knowledge that a freestanding bathtub awaits just upstairs.
Wondrous examples are plentiful, but here are some of our favorites to frequent in the States and during European getaways. They all have the power to plunge us into elegant worlds that aren't our own.
1. Amsterdam: Pulitzer's Bar at Hotel Pulitzer
Amsterdam is one of Europe's most pristine cities, and a sublime perch to take in those heady Prinsengracht and Keizersgracht canal views is the Hotel Pulitzer. Fresh from a massive renovation, this nexus of 25 17th- and 18th-century buildings now makes way for Pulitzer's Bar. The Art Deco-flavored hideaway, so comfortable and classy with its fireplace and cozy armchairs, seems as if it's always been a vibrant part of the neighborhood. Quietly contemplate the water with a fermented pineapple syrup Old Fashioned in hand.
2. Boston: The Hawthorne at Hotel Commonwealth
First the Hotel Commonwealth convinced food- and drink-savvy Bostonians that Kenmore Square transcended Red Sox games at Fenway Park with Eastern Standard, the brasserie where ordering a Bijou and steak tartare ensured bliss. Then came the Hawthorne, an intimate shrine devoted to cocktails, where impressively wrought drinks turned out at the long bar, like a bitter Campari-laced Mai Tai, are ever-changing and the intriguing menu is matched by a welcoming residential atmosphere. Surrounded by books, photographs, and fashionable furniture, it's like spending the night in an artsy salon.
3. Charleston: The Living Room at The Dewberry
A newcomer to downtown Charleston, the Dewberry fast emerged as one of the city's most desirable places to sleep. Set in the one-time L. Mendel Rivers Federal Building, its mid-century allure is on full display in the Living Room, where the petite brass bar emphasizes stunning stirred drinks such as the Dark as Night with Pierre Ferrand Ambre Cognac, Mancino Chinato vermouth, and Nux Alpina walnut liqueur. A stool is the best way to engage with knowledgeable barkeeps, but settle into one of the plush sofas or chairs flanked by mirrored columns, and it feels like the evening is unfurling in a tasteful penthouse pad.
4. London: Punch Room at The Edition
From the gliding trolleys of Dukes Bar to the White Ladies guzzled at the American Bar, whiling the night away at a London hotel bar is often a rewarding ritual. More contemporary than its brethren — although the mix of oak, blinds, and tufted sofas is appealingly old-fashioned — is the civilized, reservations-only Punch Room at the Edition. The concoction of choice at this Fitzrovia retreat is, of course, punch. A clarified milk version, with Cognac, Arrack, cider brandy, dark rum, green tea, and spices, is one to relish by candlelight.
When the Academy Awards made its debut at the Hollywood Roosevelt in 1929, the hotel was just two years old. Nine decades later, the property remains an L.A. favorite among celebs with its beloved David Hockney-designed pool and playful hangouts like the Spare Room. Dotted with arches, dark wood, and leather, the Spare Room's centerpiece is a retro bowling alley. Over a low-key game of Scrabble in the company of a Salt & Vinegar Martini, the soundscape of balls hurtling down the two lanes is more nostalgic lullaby than aural inconvenience.
One never goes thirsty in New Orleans. A rich legacy of classic cocktails whipped up by able barkeeps in glamorously boisterous settings makes the Big Easy one of the world's best cities for imbibing. Quality joints abound, but none suffuse the precise enchantment of the Hotel Monteleone's Carousel Bar & Lounge, a French Quarter landmark since 1949. When seated on one of the hand-painted chairs at the round, revolving, pewter-topped bar, spring for a boozy Vieux Carré. The rye-Cognac-sweet vermouth-Bénédictine-Peychaud's bitters libation was first dreamed up here, and the jazz-era portraits and carnival-esque lights only leave guests plummeting further into a convivial past.
Old World New York is fast slipping away, but majestic vestiges remain in the forms of posh hotel lounges like Bemelmans Bar at the Carlyle. Sipping, say, a Calvados-brightened Sidecar here sets patrons back more than $20 — and that's not including a cover charge for when the jazz trio commences its nightly serenade. But one pays for something far more profound than a mere drink. The Art Deco ambiance conjures a timeless Upper East Side, black glass melding with granite and gold leaf. Walls, dominated by circa-1947 murals from Madeline creator Ludwig Bemelmans, depict a bygone Central Park packed with a carefree whimsy that now seems heartbreakingly elusive.
Before reopening as a luxe hotel in the third arrondissement, Les Bains was by turns a Proust-loving Parisian bathhouse and a notorious nightclub where the likes of Mick Jagger cavorted. Situated between two tranquil urban terraces, underneath a ceiling of undulating crimson lacquer, the bar is a prime spot to soak up the 19th-century building's colorful history. While bartenders ply customers with spot-on, hangover-alleviating garlicky Bloody Marys, the presence of Philippe Starck's original black-and-white tile dance floor evokes a glorious period of anything-goes, 1980s debauchery.
Atop Rome's must-climb Spanish Steps is the Hassler, a hotel that's held court here since 1893, greeting those who embrace the 135-step climb with antiques and gilded surfaces. A slew of dignitaries and celebrities especially like refueling at Hassler Bar, a clubby establishment shrouded in red leather and dark wood that instantly transports one to the Rome of yesteryear. Amplifying this backdrop are drinks like the Veruschka, a pomegranate and sparkling Italian wine quaff calling to mind the hedonistic days of "La Dolce Vita."
Washington, D.C. may never again be the same, yet present-day politicos shall continue to flock to Off the Record, the scarlet-hued, subterranean lair in the Hay-Adams Hotel, just across the street from the White House. Stiff Manhattans savored amid dark paneling and an ornate ceiling lead to loose lips and inevitably, hushed gossip and clandestine deals. Graced by a collection of political caricatures, Off the Record harks back to a time when scandals were more sexy than sinister.
Did your favorite hotel bar make the cut?
Kitchn supports our readers with carefully chosen product recommendations to improve life at home. You support us through our independently chosen links, many of which earn us a commission.