10 of Our Best Boozy Baked Goods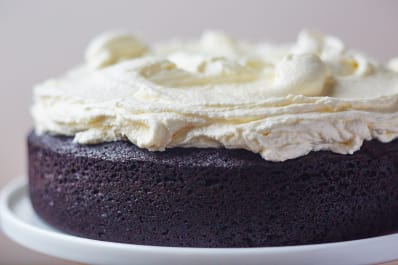 (Image credit: Lauren Volo)
Making a baked good with booze is a good move. When baked, most of the alcohol actually cooks out but the flavor remains, which can make for a treat that's a whole lot more interesting. A splash of alcohol can also make for a more moist and tender finished product, which is always a win.
Whether it's a dash of whiskey or a glug of beer, here are 10 fun recipes that take your cakes, pies, and bread puddings out for happy hour.
What puts this extra-decadent treat over the top isn't the cinnamon caramel sauce that's drenched over it, but the creamy, bourbon-spiked custard sauce it's served with.
It's hard to improve on classic carrot cake, yet this fun twist manages to do so. Adding both olive oil and a splash of whiskey to the batter makes for a cake that's ridiculously moist and tastes just a touch more sophisticated.
Why save pecan pie for Thanksgiving? All that gooey richness is too good to be enjoyed just once a year — especially when it's boosted with a little bourbon.
This fragrant cake, spiced with cinnamon, clove, and allspice and dotted with dried cranberries, is a wonderful mid-afternoon treat — both the coffee and the whiskey in the glaze are sure to perk you up.
The mashed sweet potatoes for this bread pudding can be cooked and prepared up to two days in advance, which makes this dessert easy to assemble and bake the day of.
This beer bread is chewy and has a slightly bitter flavor from the beer. It never gets too overwhelming because it's offset by salty cheese and chives. Serve it alongside soup, stews, or simply on its own with plenty of butter.
Pouring Guinness into the batter of this chocolate cake gives it a gentle, surprising note of caramel flavor while also making it exceptionally moist and tender.
This sweet bar, inspired by the pie traditionally made for the Kentucky Derby, is lined with a shortbread crust and filled with a mix of walnuts, chocolate chips, and, of course, bourbon.
Bourbon not only adds a punch of flavor to this homey fruit dessert, but it also prevents it from being too sweet and actually deepens the flavor of the blackberries.
This individual dessert is best suited for a dinner party with serious chocolate-lovers at your table. It's intensely chocolatey and is sure to impress at the end of the meal. The addition of whiskey adds a layer of smoky intrigue.