10 Little Magic Tricks from Ina Garten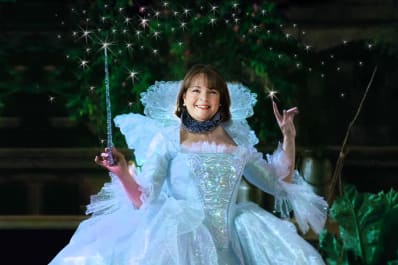 (Image credit: Disney/The Barefoot Contessa)
Ina Garten is basically a fairy godmother. She flies through the world, sprinkling bits of wisdom and fleur de sel everywhere she goes. From date-night tips to dinner party advice, Ina is always there to help. And from chocolate cake to lasagna, her recipes are simple and straightforward yet yield the most impressive results. How does she do it? Pure magic.
But that magic can be yours too. Like every generous godmother, she has shared her magic in the form of tips and tricks. Here are 10 to make your life easier, better, and more magical.
If there's anyone I trust for advice on keeping the romance alive, it's Ina. From planning a simple menu (so you can spend less time in the kitchen and more time with your sweetie) to saving the Netflix binge-watching until after dinner, these five date-night-in tips will make your love as strong as Ina & Jeffrey's — fingers crossed.
This four-layer devil's food cake with coffee meringue buttercream frosting might seem intimidating, but Ina has a smart tip for making the process more manageable: "I bake the cakes one day and make the buttercream and assemble the cakes the next so it is not too daunting." See, even the Queen of Entertaining cuts herself some slack!
When planning out a dinner menu, all too often the side dish is an afterthought. But Ina has a foolproof way of making the side as appealing the main event: Add lots of Parmesan and breadcrumbs. (Who wouldn't like that?) This recipe is for roasted zucchini, but you can apply this cheese-and-carb logic to any vegetable — cauliflower, broccoli, and Brussels sprouts included.
If you want to make perfect pork tenderloin, open a bottle of hard cider. (No, not to get drunk on, although a little liquid confidence never hurt.) After marinating the pork overnight in a mixture of cider, maple syrup, and spices, the roasted tenderloin will come out juicy and flavorful every time.
Ina is the queen of the tiny, seemingly inconsequential hack or twist that ultimately makes the final dish so much better. From adding coffee to chocolate (to make it taste more "chocolatey") to "mashing" guacamole with a sharp knife instead of a fork (to get the best chunky texture), she is a fount of practical nuggets of wisdom.
If you want to host a dinner party and actually enjoy time with your guests instead of spending the whole evening stressed out in the kitchen, follow Ina's lead by drawing up a make-ahead menu. From writing out a game plan to prepping most of the dishes a day or two in advance, her foolproof dinner party tips will set you up for success.
If you can't jet off to Spain to taste tapas first-hand, trust Ina on this stuffed pepper appetizer. It involves steeping raisins in sherry (um, yes please!) and then tossing them with garlic, green olives, anchovies, tomato, saffron, and breadcrumbs to make the filling. You can stuff the peppers and refrigerate them up to a day in advance, so all you have to do is throw them in the oven when you're ready to have friends over for a Spanish-inspired dinner party. No sweat.
In true Ina fashion, this cake comes with two ingenious tips. First, she suggests mashing the bananas with a fork on a cutting board. Do you know how many times I've tried to mash bananas in a bowl and they've slipped around everywhere? The flat surface of the cutting board makes it easy to mash the bananas quickly and (relatively) cleanly.
Ina also notes that this cake actually benefits from being made ahead of time: "When you are making a pound cake or banana cake, if you wrap it well and refrigerate it it gets moister. It actually gets better!"
You heard the woman! Bake this cake ahead of time and let it come to room temperature about an hour before you're ready to serve.
It's no secret that soup is a great make-ahead dish. Ina makes her wild mushroom and farro soup in advance and then reheats it when she's ready to serve. The one thing she saves for the last minute? Gussying it up! For this particular recipe she likes to add a dollop of crème fraîche and a drizzle of Marsala wine, which sounds absolutely divine.
Adding veggies to lasagna is always a good idea in theory, but certain vegetables can release too much water while the lasagna bakes, leaving you with a soggy mess. Ina's solution is twofold: Roast the vegetables beforehand and soak the noodles rather than boil them. By soaking the lasagna sheets in super-hot water, you soften them enough to be pliable but also ensure you won't end up with mushy, overcooked pasta once the final dish comes out of the oven.
These are just a few of the most magical, life-changing moments we've learned thanks to our fairy godmother of the kitchen. Do you have any others to add?