​10 Instagram Accounts to Follow If You're Doing Whole30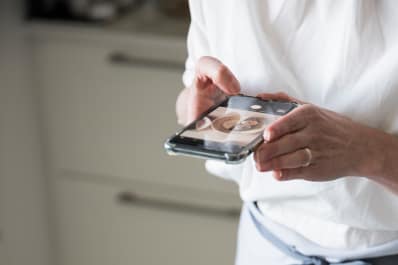 (Image credit: Charity Burggraaf)
So, you've decided to embark on the food adventure that is Whole30. We applaud you! And we feel your pain — especially since your Instagram feed is likely taunting you with photos of pumpkin pie and Halloween candy (even the bad candy is pretty tempting right now, right?).
You could just delete the app, and we wouldn't blame you. But the smarter thing to do here is to harness Instagram for good. If you follow accounts overflowing with dishes you can actually eat while on the diet — and there are a lot of them! — you'll find it easy (well, easier) to stay inspired.
Here are 10 of our favorite Instagrammers to keep you going during Whole30.
Love tacos, breakfast scrambles, and Pumpkin Spice Lattes? Michelle Smith has a Whole30-compliant recipe for you. Her recipes look as fresh as they do appetizing; we're especially drooling over her shakshuka with Moroccan-spiced meatballs.
Teri Turner of No Crumbs Left proves that Whole30 does not have to be boring. Whether she's sharing her recipe for smoked scallops or arranging beautiful beds of veggie-filled salads, Turner proves that you can still enjoy decadent meals while sticking to the diet.
It's hard to believe Kendra Cardoz's mouthwatering recipes are Whole30-compliant, but this recipe developer gets creative with her dishes, whether it's using bacon strips as a breakfast pizza crust or portobello mushrooms as a bagel for a breakfast sandwich. Her recipes are easy to follow, and her photos are beyond gorgeous.
Sisters Nan & Nicole of Whole Sisters are all about whole foods, which means their recipes are abundant in foods like colorful fruits and vegetables, eggs, and fresh fish. They've got everything from healthified curly fries to open-faced lettuce BLTs, which means you're never feel like you're missing out on your favorite foods.
Caroline Fausel's page of Whole30- and Paleo-friendly recipes will make you want to hit the kitchen ASAP. Her meals are simple, delicate, and, most importantly, easy to prepare. Our favorites are her prosciutto-wrapped asparagus and loaded açaí smoothie bowl.
Nom Nom Paleo's Michelle Tam is one of the most popular bloggers in the Paleo community, and her account is filled with Whole30 options. She not only posts recipes that are unique and impressive — kimchi cauliflower fried rice, anyone? — but she also posts her favorite meals at popular restaurants, so you'll never feel stuck on what to order.
As the co-creator of the Whole30 diet, Melissa Hartwig is a must-follow. On her page she shares recipes, healthy tips, and different workout routines, and she often shares food from other bloggers following the diet. Whether it's a post on how to make her chicken meatballs with basil spinach pesto or a video demonstrating her epic squat routine, Hartwig will be sure to leave you feeling motivated.
Steph Gaudreau is out to prove that using whole foods can be super easy. Some of her delectable dishes include butternut squash soup, BLT chicken salad, and sweet potato waffles. Although her page is mainly Paleo, most of her recipes fit into the Whole30 diet.
Like Gaudreau, Irena Macri of Eat Drink Paleo is a Paleo blogger whose focus is on real foods, which makes her a good source of inspiration for Whole30 meals. She's a big fan of using spices and herbs for flavor, and she's also big on posting sheet pan meals, which makes her recipes a great choice for those cooking for friends and family.
If recipes with too many ingredients and steps turn you off, head to Marissa Medranda's account, where you'll find simple and straightforward recipes that won't have you spending all day in the kitchen. Medranda has everything from basic eggs and sausage to cauliflower rice and chicken, and cooks of every level will have no problem making her food.
Did we miss any? Let us know in the comments!