10 Healthy Snacks You Can Only Find at Costco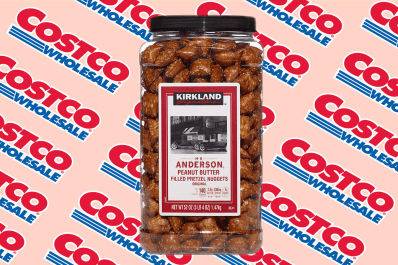 (Image credit: via Costco)
Costco is known for lots of things — humongous shopping carts, a generous free sample policy, and cheap hot dogs, to name a few — but it's not just a fabulous place to go when you want to stock up on giant jars of peanut butter or massive containers of dish detergent. Costco also has a fantastic selection of healthy snacks.
I've rounded up my favorite healthy snacks that you can only find if you go to Costco. Some of these picks are made by Costco's in-house brand, Kirkland, and some are made fresh daily by their in-house staff. Other items on the list are in packaging and quantities you can't get anywhere else. All of these foods are not only good for your wallet, but they're also good for you.
I'm not sure what Australia has to do with these tasty trail mix muffin-esque bites, but I tip my hat to you, Aussies. These delicious, moist bites are full of nuts, grains, seeds, and dried fruits. They also happen to be packed with Omega-3s. *Raised hands in celebration emoji*
2. Cilantro Lime Shrimp, $10 per pound
Keep a tub of Costco's house-made marinated shrimp in the fridge for when you need something a little more substantial to tide you over until the next meal. It has a nice acid hit from the lime and the little bit of chili pepper gives it a pleasant kick. Eat it on its own or serve it on a tortilla chip for a ceviche-ish moment.
3. Crunchy Rice Bites Seaweed, $7 for a 9-ounce bag
Seaweed flakes give these mini rice cakes a terrific umami flavor. And, at only 150 calories for 12 pieces, they're a great healthy option for a snack.
4. Organic Apple Slices, $7
These crispy apple snack packs are perfect for tossing in lunches, topping salads, or just eating when you're on the go. They pair perfectly with a dollop of peanut butter too.
5. Nut Bars, $20 for 30 bars
In moderation, these nut bars are a great way to pack some protein and fiber into your diet. Each bar clocks in at only 66 cents, which is much cheaper than its competitors.
If you're a peanut butter fan, run — don't walk — to this monster-sized tub of pretzel nuggets. Not only are they intensely snackable, but a serving of eight low-sugar, high-protein nuggets is also only 140 calories.
7. Granola Snack Mix, $9 for a 24-ounce container
Add a spoonful of this fresh granola to yogurt, crumble it over baked fruit, or just eat handfuls of it when munchies strike. Not sure if you can eat it all while it's fresh? Freeze it! It'll keep.

Related: Granola Gone Stale? 3 Creative Ways to Bring Granola Back To Life
8. Organic Hummus Cups, $6 for 20 (2.4-ounce) cups
Pair these single-serve hummus cups with a handful of baby carrots or pita chips to knock out a decent — and healthy! — mid-day bite.
9. Eda Yummy Crunchy Mix, $8 for a 27-ounce bag
This giant bag of roasted edamame and almonds tossed with dried berries will bring a little sweet and savory to your snack game. The fact that it has no cholesterol and no trans fats while providing lots of fiber is a happy bonus.
Yes, you can pick up roasted and salted nuts anywhere, but Costco offers peanuts, almonds, and cashews in a great to-go package perfect for all your snacking needs. It works out to $.66 a bag, which is an incredible steal.
What are your favorite healthy snacks at Costco? Tell us in the comments!