The Top 10 Healthy Snacks You Can Find at Wegmans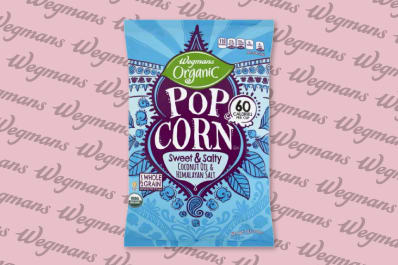 (Image credit: Wegmans/Graphic Design: Susanna Hopler)
Those of us who are lucky enough to live in one of the six states with Wegmans stores know that no other grocery store compares to it. Any devoted Wegmans fan also knows the generic store brand is usually cheaper and better than other options, and that's especially true when it comes to healthy snacks.
In fact, Wegmans wants you to snack better, and feel good about doing so. They have an entire line of products under their Food You Feel Good About (FYFGA) label. You can trust that any product adorned with the FYFGA yellow banner has no artificial colors, flavors, or preservatives.
10 Healthy Wegmans Snacks
When I used to work for Wegmans, I got to try every new snack the company came out with and quickly assembled a list of top hits. They've released even more since then. Below, I've rounded up some of my favorite healthy snacks you can only find at Wegmans — many of which are worth making a road trip for.
1. Roasted and Sea Salted Seaweed Snack, $0.79
Am I the only one who dreams of sushi every day? I might not be able to afford the two-roll lunch special as much as I'd like, but I have found a solution to my cravings: seaweed snacks.
I love these packages of crunchy, savory dried seaweed. They're gluten-free and vegan, with only 30 calories per package. Save even more if you buy in bulk: $1.99 for a package of three or $5.99 for 12. If you like a spicy bite, give the Wasabi Roasted and Sea Salted version a try.
2. Get Wild Crunchy Sea Salt-Flavored Rice Chips, $4.99
When you're in the mood for something salty, reach for these rice chips. They're made with whole-grain brown rice, wild rice, and rice and corn flours. I enjoy them as is, but they're also great to dip into hummus, salsa, or guacamole. Other available flavors include Chipotle Lime and Salsa Fresca.
3. Dark Chocolate Nuts & Sea Salt Wholesum Bars, $1.29
These are Wegmans' version of KIND bars. My go-to bar is the classic Dark Chocolate Nuts and Sea Salt, but other flavors include Peanut Butter Dark Chocolate, Dark Chocolate Cherry Cashew, Almond and Coconut, and Cranberry Almond. If you stock up they cost even less per bar: $9.99 for a 12-pack and $16.99 for a 24-pack.
4. Organic Dried Apple Rings, $5.99
I keep a package of these dried apple rings at my desk for the days I forget to bring fresh fruit to work. They're just one type in a whole line of organic dried fruit that doesn't have any added sugar. They also have 0 grams of fat. Give the dried apricots and dried mango a try, too!
5. Organic Whole-Grain Animal Cookies, $3.99
Who says you need to still be a kid to enjoy animal cookies? This whole-grain version makes you feel a little more like an adult snacker. Ten cookies come out to being 130 calories and count as one whole-grain serving.
6. Organic Ancient Grain Granola, $3.99
I love how versatile a bag of crunchy granola is. Keep a bag on hand to add to your morning Greek yogurt or for snacking alone. I like the Ancient Grain mix, made with quinoa, kamut wheat, amaranth, and spelt. Other flavors include Coconut and Baobab, Vanilla and Almonds, Cocoa and Chia, Blueberry and Flax, and Pumpkin Flax.
7. Peanut Butter Filled Pretzel Nuggets, $5.99
I've been a loyal consumer of these irresistible peanut butter-filled pretzel nuggets since I worked for Wegmans as a teenager. They're the perfect snack when you need a mid-afternoon pick-me-up.
8. Organic Sweet & Salty Popcorn, $2.49
Like a cheaper version of the wildly popular Buddha Bowl popcorn, this kettle corn wannabe gets its sweet and savory flavors from coconut oil and Himalayan salt.
9. Orchard Trail Mix, $12.99
I'm not the biggest lover of trail mix, but I make an exception for this. A mix of dried cranberries, almonds, dried cherries, raw walnuts, and dry roasted pistachios, I'll take this version over those that come with raisins, peanuts, and M&Ms any day.
10. California Skinny Roll, $5.99
The only thing not to love about these California skinny rolls is their name. It's just shrimp, avocado, and cucumber wrapped up in a rice paper. They're surprisingly filling and I promise you won't miss the rice.
What are your favorite healthy snacks from Wegmans? Let us know in the comments!