10 Foods That Are Higher in Protein than You Think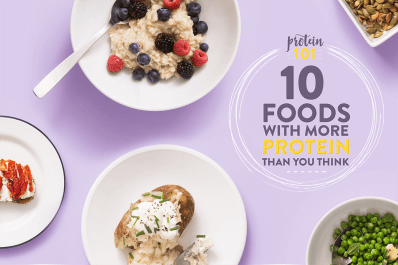 (Image credit: Photography by Christine Han. Photo Illustration by Susanna Hopler.)
We're told to eat plenty of Greek yogurt and chicken breasts to get good protein, but the truth is that protein is found in nearly every food we eat — yes, even chocolate, although the amount is quite minuscule.
There are, however, a number of foods that may surprise you as to how much protein they actually contain. If you're shooting for about 50 grams of protein a day, which is the recommended intake for a 2,000 calorie diet, these foods have enough to make it count towards your daily dose. Here are 10 foods with more protein in them than you might think.
---
1. Parmesan Cheese
All dairy is a good source of protein, which means all cheese is, but Parmesan packs the biggest punch. A one-ounce chunk of Parmesan contains 11 grams of protein, while the same amount of cheddar has 7 grams. Add it to your cheese board or pile a little extra on your bowl of pasta and feel good about that protein boost.
Get a recipe: Asparagus Parmesan Chips
2. Oatmeal
Whether you prefer chewy steel-cut or good old-fashioned rolled oats, both give you 6 grams, as much protein as an egg does, in just one serving — that's 1/2 cup cooked steel-cut or one cup cooked old-fashioned. Add to the fact that it's filled with good fiber and other nutrients, and it's a solid pick for the morning.
Our best oatmeal tips: The Ultimate Guide to Oatmeal
3. Nutritional Yeast
Two tablespoons of nutritional yeast contain 9 grams of protein. While it's a favorite of vegans because of its nutty, cheese-like flavor, it's tasty enough that everyone should be sprinkling it on their popcorn and kale chips.
Read more: Nutritional Yeast Isn't Just for Hippies and Vegans
4. Farro
Quinoa is touted as the best high-protein grain, and it is a great one, but so is farro. Both contain 8 grams of protein in one cooked cup.
One thing to note, however, is that farro is an incomplete protein, while quinoa is a complete one — so farro only contains some of the nine essential amino acids we need on a daily basis. But if you're consuming a well-balanced diet, you'll easily get all nine essential amino acids throughout the course of the day and it shouldn't be a big concern.
Get a recipe: Warm Farro Salad with Roasted Vegetables and Fontina
5. Pumpkin Seeds
Pumpkin seeds, also known as pepitas, have more protein than any other nut or seed out there. An ounce of pumpkin seeds contains 8 grams of protein, while the same amount of almonds contains six.
Another bonus of pepitas? While many good-for-you nuts, like almonds and pistachios, can be rather expensive, pumpkin seeds are almost always more affordable.
Get a recipe: Lemony Green Salad with Radicchio & Pepitas
6. Sun-Dried Tomatoes
A half-cup of sun-dried tomatoes contains 4 grams of protein, which makes for an easy protein boost if you're tucking them into sandwiches, tossing them with pasta, or chopping them into salads.
Related: What's the Difference Between Dry and Oil-Packed Sun-Dried Tomatoes?
7. Cottage Cheese
Let's go out on a limb here and say that cottage cheese was the original Greek yogurt. We all love Greek yogurt for its high level of protein — 20 grams in one cup of the full-fat stuff — but the same amount of full-fat cottage cheese has a whopping 29 grams of protein.
Get a recipe: Cottage Cheese Muffins with Roasted Red Peppers and Feta
8. Green Peas
Your parents always told you to eat your peas, and they were right — they are one of the best vegetable sources of protein, with 4 grams per 1/2 cup of cooked peas. Keep a bag of frozen peas on hand to add to soup or serve as a quick side dish and you'll get a little more protein in your bowl or on your plate.
Read more: 3 Recipes That Prove Green Peas Are More Than Just a Side Dish
9. Lentils
Lentils have more protein than any other bean (including chickpeas, white beans, and black beans). One cup contains a hefty 18 grams of protein, while the same amount of chickpeas has 14 grams.
Related: 15 Recipes That Prove Lentils Are Tiny Kitchen Miracles
10. Potatoes
There's actually more to potatoes than simply starchy goodness. One large potato contains 6 grams of protein. Bake that large potato, load it with beans and cheese, and you've got an easy vegetarian high-protein lunch or dinner.
Get a recipe: Curried Chickpea & Spinach Baked Potato
---
Who I Am (and Why I'm Writing to You)
As a food editor who is also a Registered Dietitian, I know the confusion of our fractured landscape of diet information. But if you strip away the study-of-the-day and fad diets, there is solid information we can all learn about basic nutritional building blocks.
We're offering these unsexy yet useful tools to empower cooks to make decisions that suit them with solid, science-driven resources.
This especially applies to protein, the first topic in our new Nutrition 101 series. We want to give you the tools for confident eating and a more wholesome diet — something we can all get behind.