10 European Cities You Can Actually Afford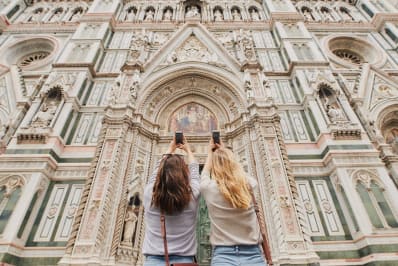 (Image credit: Aila Images/Stocksy)
This may be the merriest time of year (the gifts, the parties, the family!), but it can also be the most stressful (the gifts, the parties, the family!). So, in between holiday shopping and cookie-baking sessions, why not take some time to plan your next vacation? The planning and the anticipation, it turns out, are likely to boost your happiness for up to eight weeks (i.e., just long enough to get you through the holiday season).
But where should you go? You could let the stars dictate your next vacation, or you could let us clue you into 10 European cities that you can actually afford.
1. Seville, Spain
The much-romanticized tales of Spain's flamenco dancers and bullfighters are alive and well in centuries-old Seville. Here, narrow streets host bustling, open-air markets meant for bartering, and countless tapas bars let you eat cheap all day, every day. Try the local delicacy, rabo el toro (bull's tail) — and then rest up for a night out during afternoon siesta.
An extremely walkable city, you won't need to dish out cash for cabs, and hotels rarely break $100 all year long; in fact, most well-rated rooms are ticketed at just $60 or $70 per night.
2. Budapest, Hungary
Budapest blends modern conveniences with ancient architecture, giving it the most unique mix of neoclassical, baroque, and art nouveau styles in Europe. And because Hungary doesn't pop up on travelers' lists as much, you can take full advantage of sites like Castle Hill or one of over 100 thermal springs without the crowds. Hop on the city's metro transit service, which is both reliable and cheap, and makes eating your way through the diverse restaurants and street carts — from traditional Hungarian to Mexican to authentic French — a cinch.
3. Cologne, Germany
A number of self-guided outdoor activities in Cologne means you won't be digging into your pockets during your stay: Stepping into the Gothic cathedral that survived WWII is a must, as is enjoying a pint (or three) of Kolsch beer and padding your belly with bratwurst at the eateries nestled inside every brewery.
The wine valley here is another obvious draw, but you would be remiss if you didn't venture out to the small villages that run along the Fuhlinger, Otto-Maigler, and Escher lakes, which even some of the most wanderlust travelers might not otherwise stumble on.
4. Athens, Greece
Greece's capital is where you'll catch some of the most iconic sites in all of Western Civilization — including the Acropolis, Parthenon, Olympeion, Agora, and the Panathenaic Stadium — for a bargain. When you're hungry, stick to smaller, hole-in-the-wall cafes and bars; any spot near major landmarks or with English menus out front will gouge you.
5. Lisbon, Portugal
Portugal's coastal capital was the "it" destination this year, and with good reason — it's got charm aplenty, it's relatively free from the maddening tourist crowds, and it's easy (so, so easy) on the wallet. Flea markets are (ahem) swarming with bargains, a bottle of Vinho Verde will cost you around $3, and accommodations are highly competitive here, constantly slashing their prices to every budget visitors' delight.
Don't miss the pasteis de nata, egg custard tarts that you can find everywhere, but are worth seeking out at Pasteis de Belem or Manteigaria. And, if you have a bit of wiggle room in your budget, we strongly recommend booking an apartment at The Lisboans. To sweeten the deal, your room comes with a refrigerator stocked with staples like yogurt, ham, and cheese, and breakfast of pastries and orange juice is delivered daily.
It takes a bit of effort to get to Puglia, but once you're there you may never want to leave. Imagine: miles of Mediterranean coastline, groves of ancient olive trees, and whitewashed towns carved into hillsides, not to mention some of the most incredible seafood, pasta, and wine in the world.
The best way to experience it is probably to rent a house, shop at the local markets, and prepare yourself a feast with some of the finest ingredients you can imagine. But if you're more of a hotel person, affordable accommodations are plentiful — especially if you're willing to stay a bit inland.
7. Prague, Czech Republic
This Czech city is rising in popularity, but it's still somewhat of an affordable option in the heart of Europe. The famous Charles Bridge connecting Old Town with Lesser Town is a must, as is the world's largest castle complex, where admission to all of its grounds — including the St. Vitus Cathedral — is free.
Hotels tend to run at a slightly higher price point than other cities on our list, however the access to cheap eats and brews is unbeatable. Sniff out street vendors for the best deals on bramboráky (potato pancakes) and ovocné knedlíky (fresh fruit and curd cheese dumplings) and wash it all down with a pilsner, which was invented here. Just be sure you stick to public transportation and avoid cabs when you can — they're known for overcharging.
8. Krakow, Poland
Krakow is truly one of the best bang-for-your-buck cities in all of Europe. Here, you can find three- and four-star hotels at the price of hostels in heavy-hitting cities like London. Busses and trains are well connected throughout the city and cost just a few dollars per day for unlimited rides, and the food is insanely cheap. To explore on a budget, start at the main square and join one of the many free walking tours to check everything off of your sight-seeing list, including Wawel Castle and the Bunker of Modern Art.
Second breakfast (yes, that's actually a thing) and tea time are quite popular here, so expect to be snacking on obwarzanek (thin, slightly sweet bagels) throughout the day. Plus, you can load up during lunch hours at cafeteria-style eateries (try maczanka, pork loin sandwiches doused in gravy, and oscypek smoked cheese) for just $3, and sit down to more formal dinners that will set you back about $6 per person — or $9 if you're sipping local lagers.
9. St. Petersburg, Russia
This east-meets-west city is home to both classically European public squares and narrow canals and distinctly Russian art and literature. And the exchange rate to the Russian ruble is extremely favorable, so your wallet will stay pretty padded no matter how many blini (sweet, stuffed crepes) you eat.
The only catch is that you need a visa from the Russian embassy or consulate before traveling, which adds about $150 to the cost of your trip; however, with flights and hotels at such low rates, you'll probably still come in under budget.
(Image credit: Photo: Zocky/Stocksy)
So you've never heard of Podgorica, but maybe it's about time you did? The capital of Montenegro is not on the tourist hit list — at least not yet — which means you can still find a super-local, off-the-beaten-track experience. For attractions, you've got the Cathedral of the Resurrection of Christ, an Orthodox church with a stunning gold-and-mural-covered ceiling and walls; the cable-stayed, futuristic Millennium Bridge; and the artifact-filled Museum & Galleries of Podgorica. But it's really in the city's restaurants, bars, and cafes that you'll find that unusual urban experience that's so rare these days.
Did your favorite budget European destination make the list?
Kitchn supports our readers with carefully chosen product recommendations to improve life at home. You support us through our independently chosen links, many of which earn us a commission.