10 Colorful, Spring Kitchen Goodies for Less than $20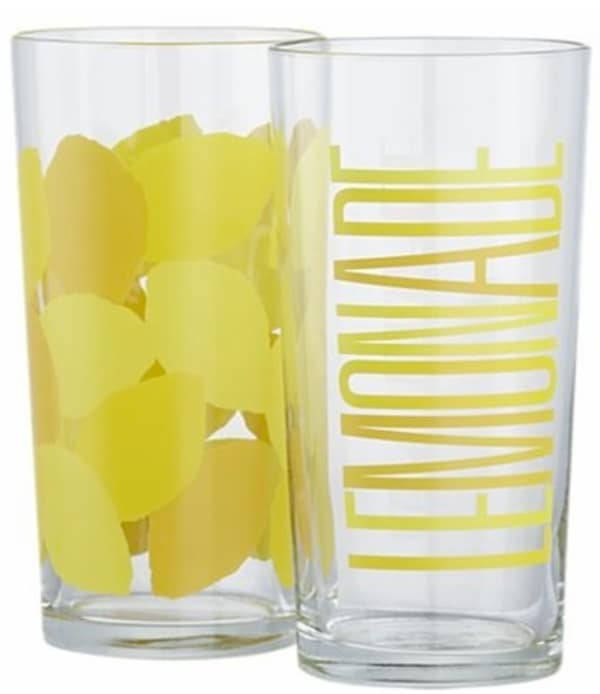 We don't have room for one more glass, plate, or napkin in our apartment, and yet it's hard to resist when stores start trotting out all of the bright, cheerful kitchen items for Spring. They know how hard our winter was! We need colored straws! Here are 10 pretty, inexpensive items we're loving right now.
TOP ROW:
• 1. Lemons/Lemonade Glasses, $3.95 each from Crate & Barrel.
• 2. BÄRBAR Tray, $5.99 from IKEA.
• 3. Liberty of London Maynard Canister, Large, $19.99 from Target. Yes, we realize finding the Liberty of London for Target stuff is a March Madness all its own. Everything is out of stock. But we're hoping they will restock soon (and you can sign up to be notified).
• 4. Button Letterpress Coasters, $12 for eight from Etsy seller Sarah Parrott.
• 5. Party Straws, $4.95 for six from Crate & Barrel. These come in pink and orange, too.
BOTTOM ROW:
• 6. Kaleidoscope Highball, $9 from Jonathan Adler. This entire line is cool, and it also comes in a blue/green colorway.
• 7. Jaipur Teal Floral Placemats, $15.96 for four from World Market.
• 8. Oil Misters, $12.95 from Sur La Table.
• 9. Party People Glass Markers, $6.95 for 12 from CB2. Little suction cups! A very cute alternative to the wine glass charms.
• 10. Medium Yellow Tubtrug, $13.99 from Tubtrugs. We just bought two of these to use as recycling bins in our kitchen. They come in a ton of colors, and Apartment Therapy approves.