10 Hearty Casseroles That Welcome Fall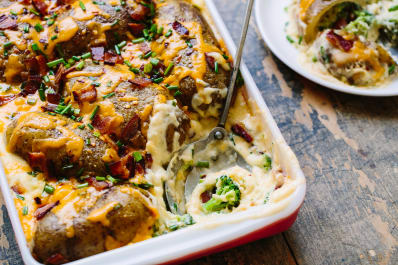 In terms of sheer comfort, casseroles are high on the list of our favorite autumn dishes. Double points if they have a good amount of cheese, and triple points if they also contain pasta. I am so happy that the chilly evenings of fall have brought casseroles back into my weekly meal rotation. They make the kitchen feel cozy on Sunday and then become easy lunches and dinners all week long. And if company stops by, no problem — there's plenty to share.
Here are 10 of our favorite hearty casseroles — filling, nourishing, and all homemade — not a can of cream of chicken soup in sight.
Casseroles and other hot bakes are definitely one of the most serviceable dishes in a cook's repertoire. They can feed a crowd, be carried to a neighbor's house, or simply go back in the fridge after dinner for leftovers all week long. They can be easily vegetarian, as our much-loved sweet potato shepherd's pie and cheesy vegetarian lasagna can attest. They can be the main dish or the side dish or just one of many potluck dishes. Casseroles, in short, are the best.
Casseroles also don't deserve their reputation of being overly heavy and loaded down with cream and cheese. Oh, they're certainly delicious when they are (I'm looking at you, King Ranch casserole!), but they're also just as warming and satisfying when we pack them with veggies and ease up on the dairy; look no further than our lighter baked mac and cheese for evidence of this.
Do you have a favorite casserole? What are you making right now?
Updated Classics
From an updated baked potato casserole to a lighter, veggie-filled mac and cheese, you'll get all those nostalgic flavors along with some new favorites.
Fast New Favorites
So maybe you've never tried putting apples in your egg casserole, but this sweet-and-savory number will make you a believer. And for all of you looking for more veggies and plant-based protein in your cold-weather comfort food, this smoky sweet potato and black bean casserole has your back.