10 Bloggers Share Their Favorite Budget-Friendly Meal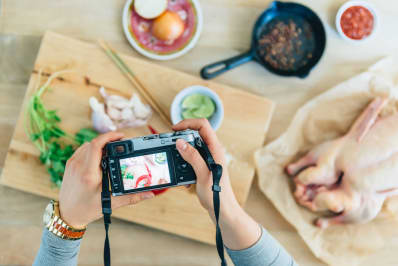 (Image credit: Jen Grantham/Stocksy)
When it comes to saving money, it's easy to think that everyone is doing something you're not — especially at the grocery store and during dinner prep. Don't you wish you could just follow everyone around to see what they're putting into their carts and what they're making once they get home? We always want to know. Which is why we asked 10 of our favorite bloggers to share their go-to meals when they're working on a budget.
Delicious, budget-friendly food is Lily Diamond's favorite kind of food, and she says she's constantly planning meals that fit the category. This one is her favorite, though: "You can roast any veggies you have on hand (those tired-looking beets and carrots? Throw 'em in!) and lentils from the bulk bin couldn't be cheaper. Add a ton of flavorful spices (if you don't have harissa paste, just use a mix of warm spices like cumin, coriander, cinnamon, smoked paprika, and cayenne), a generous bit of salt, and top with yogurt. Done."
Holly and Natalie's favorite go-to dish is curry. Their main tip: Buy good meat when it's on sale and stash it in the freezer. "All it takes to throw this together is some inexpensive produce and some coconut milk. The remaining ingredients such as rice, condiments, and curry paste are staples you should always keep on hand," says Holly.
This comes at the top for Tieghan for its affordable ingredients, and how quick and easy it is to make. "I love this recipe because it uses pantry ingredients that I almost always have on hand and a mix of veggies that I like to keep in the fridge," she says. A little advance prep can go a long way!
It's no surprise that harissa makes a second appearance on this list — it packs not only a kick, but also tons of flavor. Jeanine says, "I love this recipe because it's made with inexpensive staples that I usually have on hand in my pantry or fridge like canned tomatoes, harissa paste, and eggs. I used spinach in this recipe, but I often make it with zucchini or any green vegetable that I have!"
Clams and mussels are actually more affordable than you think — especially compared to other seafood. Inspired by a Portuguese dish, this recipe, according to Deb, feels indulgent and luxurious, yet is actually light and quick to come together. (Once the clams are cleaned, it only take seven minutes to make.)
An impressive and affordable dinner with just five ingredients? That's pretty hard to beat. Kelly's go-to budget recipe is her simple roast chicken with garlic and lemon. "It manages to provide the richest flavors with just five basic ingredients. Best of all, there's no fancy kitchen equipment needed. Just grab a sauté pan or skillet and get ready to give your local restaurant's rotisserie chicken a serious run for its money!" she says.
7. Easy Lo Mein from I Am a Food Blog
This recipe was picked not only because of Steph and Mike's love of noodles, but also because it's filling, fun, and completely customizable. Use whatever veggies you have on hand or pick up your favorite ones. Skip the takeout and make lo mein yourself!
You only need five ingredients to make this easy pasta dish, and that's why Maria and Josh love it so much. Made up of ingredients you could always have on hand, it's a tasty, quick, and easy weeknight meal that also happens to be kid-friendly.
Time is money, they say. This indulgent recipe is made in the Instant Pot and takes just five minutes to cook! Even faster than the boxed kind. Is there anything more comforting than totally yummy, homemade mac and cheese?
(Image credit: Ella Mills/Deliciously Ella)
Ella loves this recipe because "It's easy to throw together and you just need a couple of fresh ingredients to make it; everything else is a pantry essential so you save money and put what you already have to good use." This dish is bursting with flavor, thanks to the blend of spices, miso, garlic, and chiles. Make a big batch of this warming, comforting meal. It's great to serve to a bunch of hungry friends. Freeze any chili leftovers for some healthy instant meals on hand, hoorah!
What's your go-to budget-friendly meal?
Kitchn supports our readers with carefully chosen product recommendations to improve life at home. You support us through our independently chosen links, many of which earn us a commission.