10 Recipes for Avocado-Lovers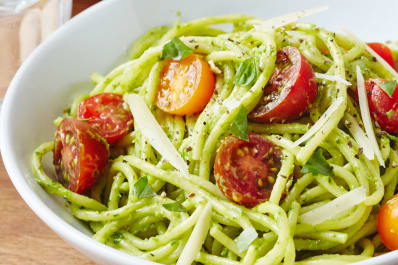 (Image credit: Lauren Volo)
There are two types of people in this world: those who ambivalently take or leave avocados and those whose heart skip a beat for the cool, creaminess of a ripe avocado. These recipes are for the latter group. Avocado toast is just the beginning, friends. From a vibrant green lassi and creamy avocado pasta, to fritters and an extra-chocolatey pudding, here are 10 irresistible ways to eat more avocados from breakfast through dessert.
Guacamole isn't the only avocado dip in town. This creamy, dreamy snack partners ripe avocado with goat cheese and lemon for an everyday dip with a tangy twist.
Next time you have some avocados on the verge of being too ripe, peel and cut them into chunks and freeze them for your next smoothie. They make a great low-sugar smoothie base with an extra-creamy consistency, plus they're loaded with good fats to keep you going all morning.
Consider this the instant-gratification solution for using up that firm avocado sitting on your counter right now. While underripe avocados don't quite cut it for making avocado toast, they are exactly what you want for avocado fries. They bake up crispy on the outside and creamy on the inside.
These deviled eggs are an avocado-lover's dream. They come together just as easily as a standard batch of deviled eggs, but avocado blended into the filling makes them even creamier.
This pasta sauce is a game-changer for weeknight dinners, potluck pasta salads, and your workday lunch box. Dress the pasta with the sauce while it's still warm and it will absorb more flavor from the sauce.
Make these once and you will appreciate those firm, underripe avocados you once dreaded. These not-so-ripe specimens are ideal for pickling. After soaking in brine for even 30 minutes they'll start to soften and pick up a spiced, tangy twist.
Ripe avocado, Greek yogurt, milk, and a pinch of cardamom are blended together for a drink that's cool and creamy, with a touch of warm spice and a tangy twist.
This is not the avocado toast you already know. This one borders on snack and dessert territory. Both sweet and salty, it starts with a layer of tangy Greek yogurt, topped with sliced avocado, a drizzle of honey, and flaky salt.
Move over, avocado toast! This is how to turn creamy avocado into a full-fledged meal that can be served any time of day. Cilantro and lime make these fritters reminiscent of guacamole, while shredded kale and quinoa add extra substance.
Chocoholics, take note — not only is avocado a good idea for spreading on toast, but it is also the key to the creamiest, most chocolatey puddings you'll make.