Every day this past week has started with a jar of pumpkin butter for me. This morning, after savoring its goodness on a slice of toast, I began to wonder what it would be like if the day ended with pumpkin butter, too. Even more so, I began to ponder if everyone's favorite fall staple could be so versatile as to accommodate every meal of the day. Here are 8 ways to use a fresh batch of pumpkin puree:
• Clean Eating Pumpkin Butter - The Gracious Pantry
This is the culprit that started my downward spiral into all things pumpkin. This recipe simply starts with a pumpkin puree, use the next recipe (below) to make your own at home.
• How to Make Your Own Pumpkin Puree - Smitten Kitchen
Make extra and use it throughout the day for the days and weeks to come with the recipes below.
Breakfast
• Pumpkin Cinnamon Rolls - Smitten Kitchen
• Moist Pumpkin Spice Muffins - Pioneer Woman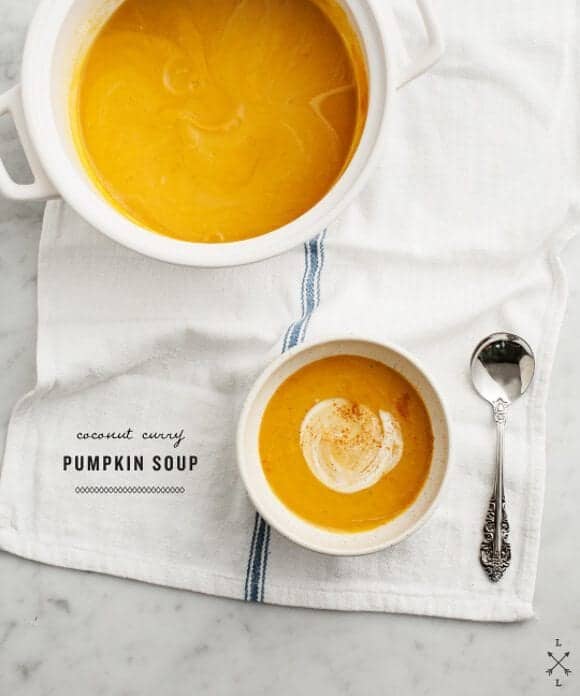 Lunch
• Coconut Pumpkin Soup - Love & Lemons
• Roasted Pumpkin Pie Chickpeas - Produce on Parade
Dinner
• Pork and Pumpkin Chili - Food Network
• Pumpkin Ravioli - Huffington Post
Dessert
•
Almost No-Bake Pumpkin Cream Pie with Maple Whipped Cream
- Joy the Baker
What's your favorite pumpkin recipe?
(Images: 1. Chris Perez 2. Ree Drummond of Pioneer Woman 3. Jack Mathews of Love & Lemons 4. Food Network 5. Joy Wilson of Joy the Baker)